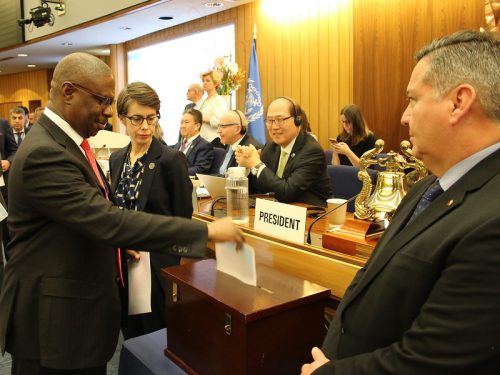 Industry stakeholders have continued to react to Nigeria's failed bid to secure the Category C seat of the International Maritime Organization (IMO) Council, in an election, which held in London at the IMO assembly last Friday.
The IMO Council, which is the decision-making body of the United Nations specialised agency responsible for regulating the global maritime industry, had on Friday elected 40 States to be members of its Council for the 2020-2021 biennium. 10 were elected into Category A, 10 into Category B and 20 into Category C.
Countries elected under category 'C', which Nigeria contested, include Bahamas, Belgium, Chile, Cyprus, Denmark, Egypt, Indonesia, Jamaica, Kenya, Kuwait, Malaysia, Malta, Mexico, Morocco, Peru, the Philippines, Singapore, South Africa, Thailand and Turkey.
Reacting to the development, a former Director-General of the defunct National Maritime Authority (NMA), Patrick Egesi, expressed worry over Nigeria's consistent loss at IMO Council, a development he blamed on the influx of non-technocrats to positions they are not qualified to hold in the nation's maritime industry.
He said to improve on Nigeria's chances of getting re-elected into the Council; the Nigerian Maritime Administration and Safety Agency (NIMASA) must begin to learn how other successful maritime nations developed their shipping industry by engaging maritime experts.
He said, "Our people need to work harder. IMO is an international organization. They don't play by the rules of Nigeria. If you are not ready for a race, you shouldn't go for the race. We have to look at the patterns of those who win. We are a big country with a lot of potentials and those things will guide us to develop our own shipping industry that will make us qualify.
"Those who entered there did not enter there by mistake. You must know your focus; that is when you will start talking about hub but the politicians are not listening and they have the whole place filled with political appointees, getting diluted by the minute.
"When the percentage of staff is 70 percent political and 30 percent real professional staff, you'll have a problem. If you want to be a champion, you train champions, you don't dress people who know nothing and expect result. You have to have a structure that the world can see."
On his part, a member of the Nigerian Shipowners Association (NISA), Capt. Taiwo Akinpelumi, described Nigeria's loss at the IMO as unfortunate and a show of shame.
According to him, Nigeria will continue to suffer loss in IMO elections if it does not focus on improving on its coastal state responsibility.
"The loss at IMO is rather unfortunate; it is not about going to IMO for election, we need to do what is right. Foreign vessels come to Nigeria and they see the state of our industry, so if we don't make effort to do things right, and we are going there to solicit their votes, even if we go there one million times, we will still come back with the same result.
"We have to refer to our capacity and assessment for the establishment of coastal state responsibility. How responsible are we as a coastal state? We have to look at that before we go for future elections because it is the coastal responsibility that will determine if you will go to the category C or not. In order for us not to keep wasting money, there are lot of things we have to interrogate," he told SHIPS & PORTS.
Also speaking, Chairman, Port Consultative Council (PCC), Otunba Kunle Folartin, said failure to ratify and domesticate the various IMO conventions cost Nigeria the category C seat.
"Has Nigeria ratified all the most recent and relevant IMO conventions and domesticate all those conventions which it has ratified so that they become instrument of law for compliance? For example, what are we doing in environmental compliance, the ballast water, the safety of ships and life at sea and training? If we have been visible in all these areas, then most countries would have seen us and we don't even need to go and campaign," he said.