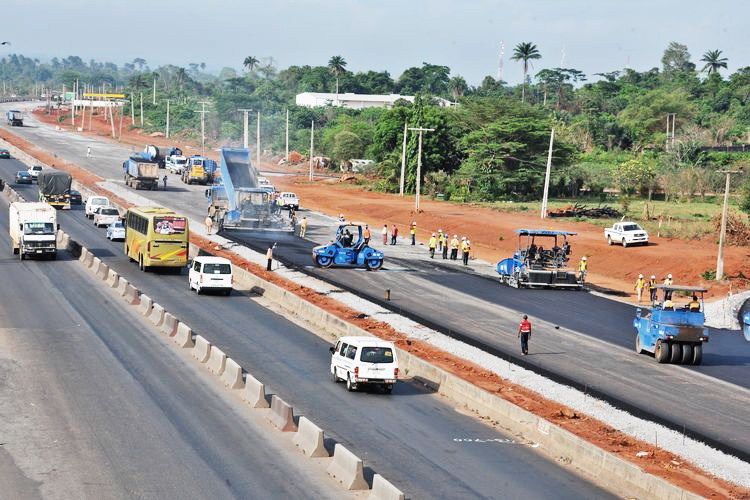 By Ace Omozuwa
Bad roads are turning Lagos to a jungle of wasted economic opportunities. Many economic actors cannot maximize their time and duly harness possibilities for business development in the city, because of ineffective transportation systems. Since, Lagos is a microcosm of Nigeria; it may be said without equivocation that bad roads have crippled Nigeria's development.
Recently, the media was awash with the sad accounts of truck drivers that spent four days commuting within Lagos. Their ordeals suggest that Nigeria is struggling to transit from the ''age of exploration'' to a knowledge economy. It sends a very bad message to the international community: Nigeria is not ready for business.
Unhindered access to market, labor, raw materials, capital, and human resource is a mark of a healthy economy. Ease of movement is an index of the business readiness of a city or a nation. Money moves at the speed of light where people and products move freely, quickly and safely.
In today's globally interconnected economy, efficient transportation systems are highways to economic prosperity. Pro-growth economic environment cannot be created without the essential physical infrastructure that aids mobility of people, products and information. As the world is becoming increasingly networked, interdependent and service oriented, the capacities to transact business efficiently, speedily, safely and with ease are becoming more and more important to economic development, social cohesion and cultural revival.
Good roads are critical to export. That exporters cannot thrive when accessing the ports in Lagos because of the bad state of roads leading in Apapa is a nightmare. A situation where trucks transporting produce to be shipped overseas spend weeks on the road before getting to the export terminal does not show government is truly ready to diversify Nigeria's monolithic economic base.
For any economy to develop, distribution and consumption must increase. It is an obvious fact that without good road networks, distribution and consumption cannot increase, even if population keeps growing. The number of rural poor in Nigeria keeps soaring because they do not have access to markets. As a result, every year, unquantifiable agrarian products perish thereby making life unlivable for many. And in an attempt to escape poverty, many unskilled youths migrate from rural areas to urban centers. Their hope for better life in the city is often quashed, and they become social misfits.
One way government could demonstrate its seriousness about creating enabling environment for inclusive economic prosperity is by prioritizing the development of effective transportation systems. The existential plight of the rural poor will experience significant improvement when they have access to markets in urban centers. When economic activities intensify in rural areas, rural-urban migration will decline. By implication, crime rates in cities will decline and Nigeria will become safer. Of course, safety and security conduce to economic development.
Good road networks should be seen as agents of national cohesion.  The actualization of our age-old quest to become "a united indivisible nation under God" will be accelerated when good roads foster inter-cultural dealings and dialogue. When people are able to travel from place to place, they develop multiple windows of perception of the world around them. In other words, it enhances their understanding of their lived world. This potentially abates ethno-religious tensions and rifts.
It does not require profound economic acuity to know that efficient transport systems create socioeconomic and cultural opportunities that foster multipliers effects. The spinoffs of efficient transport systems include improved accessibility to markets, employment generation, greater investments, development of tourism, et cetera. Conversely, the human and economic implications of deficient transport systems are multifaceted. They include lower quality of life, unharnessed economic opportunities, wastage of raw materials, and waste of man-hour.
The gridlock in Apapa has made dealings between economic entities negligible. Fleeting congestion may be seen as a sign of economic growth, particularly, when it is an indicator of increase in mobility. However, perennial congestion like what we have in the Apapa axis is one of the unintended consequences of deficient road infrastructure that paralyzes profitable business activities. The time it takes for freight to be conveyed from one point to the other within Lagos is too long, it makes loss and damage inevitable.
Future historians interested in unraveling the causes of the economic backwardness of Nigeria may say we were misguided by the assumption that all that it takes to make great economic progress is to point fingers. For even purported forward-thinking change agents have elevated finger pointing to an act of effective leadership. Due to lack of vision for socioeconomic revolution, blaming past leaders for present woes has become a cardinal function of Nigeria's leadership. Instead of motivating people to achieve great things, many leaders are busy lamenting. It should be said that lamentation is not a known recipe for sustainable development. It is not a mark of leaders with can-do spirit.
Leaders speak to inspire positive actions and change things. When rationalizing subpar performance becomes the strategic essence of leadership communication, a cloud of misery will engulf the land. Our leaders should endeavor to inspire hope by their words.
However, good rhetoric without prudent action is not a driver of development. There is a world of difference between sound bites and sound development policy. A government can say all the right things the people want to hear and fail to drive development. Nigeria has failed to climb higher rungs in the development ladder because the political class lacks the integrity to match action with words.
Every Nigerian is blameworthy for our inability to develop good roads. For we do not vote for leaders with the requisite skills and vision of development, rather, primitive ethno-religious sentiments influence our voting behaviors. Also we do not hold leaders accountable for their stewardship. It is anti-development for citizens to pamper leaders with subpar capabilities. One example will drive home this point. Years ago, when under the watch of Lucky Igbinedion, erosion and bad roads diminished the economic opportunities in Edo state, people became unpleased with his performance as executive governor. His father, Chief Gabriel Igbinedion, told voters that when a child fails, wisdom dictates that he should be given a chance to repeat. That scandalous appeal largely made his son's second term aspiration a reality. The fact is many times when political failures are accorded the opportunity to repeat, they hardly excel. For Nigeria to develop voters should not condone mediocre.
Our leaders often look at Nigeria's population and with great pride say she is the biggest market in Africa. But it seems they fail to realize that impressive population size without corresponding socioeconomic infrastructure does not equate to big market. The existence of dynamic market is predicated on extensive and good road networks.
Copyright Ships & Ports Ltd. Permission to use quotations from this article is granted subject to appropriate credit given to www.shipsandports.com.ng as the source.