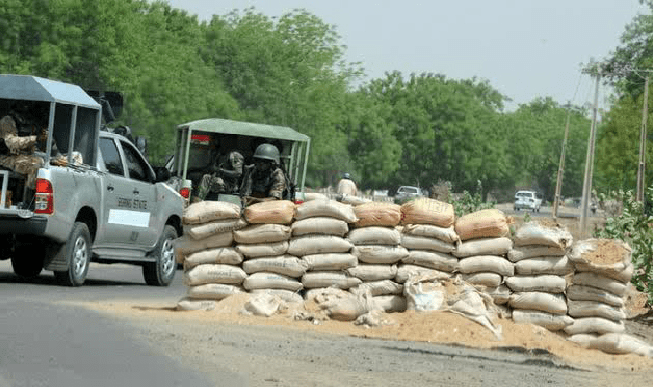 With 52 checkpoints mounted by various state and non-state actors between Mile 2, Lagos and the Seme-Krake Border, the Nigerian government has been criticised for not showing commitment to its much-touted ease of doing business and trade facilitation mantra. 
The Seme-Krake border, located between Benin Republic and Nigeria, is one of Africa's busiest land borders, and is certainly the busiest for both countries, daily recording huge movement of persons, goods and services.
The border, through which a large amount of transit goods are handled, is a major economic hub for both Benin and Nigeria. 
A visit by SHIPS & PORTS to the border last Thursday revealed how security officials and others make huge amount of money through extortion of motorists and traders at various checkpoints mounted on both sides of the Lagos-Seme highway.
The checkpoints, mostly illegal, were mounted by multiples units of the Nigeria Customs Service (NCS), Nigerian Immigration Service (NIS), Nigerian Army, Police, Federal Road Safety Corps (FRSC), Nigeria Quarantine Service and the National Union of Road Transport Workers (NURTW), among others. 
Some of the checkpoints are located about 500 meters apart. The security officials posted to mount the checkpoints "do not really check anything, their interest is in collecting money from motorists and traders", a commuter in the area told SHIPS & PORTS. 
The checkpoints are located at Abule Ado, Volkswagen, Iyana Iba, Igbo Elerin Junction, Iyana Ishashi,, Iyana Ira, Agbara, Church Bus Stop, Magbon, Area A, Area K, Oko Afon, Elijah Bus Stop, Muwo, Mosafejo, Aradagun, Limca, Koriko, Roundabout, Oloko, Owode, Gbaji, Yard, Suntan Beach, Bogolo,, Betrome, Shito, Total Ashipa Carpenter and J5 on the from Lagos way to Seme.
The checkpoints manned on the reverse side are located at Lifetown Road, Total, Mother Park. Shito, Gbetrome, Akoro, Rollington, Suntan Beach, Mathew, Yard, Aivoji, Gbaji, Iyana Owode Junction, Oloko, Ajara, Adenuja, Mosafejo, Muwo, Irija, Araromi, Oko Afon, Area K, Magbon, Checking Point, Ibiye Town, Church Gate, Morogbo, Agbara, Afromedia, Igbo Elerin Junction, Okokomaiko, Alaba International Market, LASU Gate, Ojo Barracks, Abule Osun and Mile Two. 
It was discovered that at Gbagi alone, there are five checkpoints, two of which were manned by Customs, while the other three are manned by Police, Immigration and Federal Road Safety Corps. 
SHIPS & PORTS observed that almost all motorists passing through the checkpoints make some form of payment to the security officials either directly or through appointed proxies in mufti. 
A passenger, who identified himself as Joseph, said the security officials at the checkpoints are there to "generate money" for themselves and their superiors in the office, rather than curtail the influx of arms and contraband items into Nigeria. 
"Does this show Nigeria as a serious country? Go to the other side in Benin; you won't see more than one or two checkpoints there," he said. 
In March this year, President Muhammadu Buhari admitted that small arms and ammunition have continued to flow illegally into Nigeria despite the presence of several security officials at the border and despite the closure of the land borders for more than a year.
Copyright Ships & Ports Ltd. Permission to use quotations from this article is granted subject to appropriate credit given to www.shipsandports.com.ng as the source.