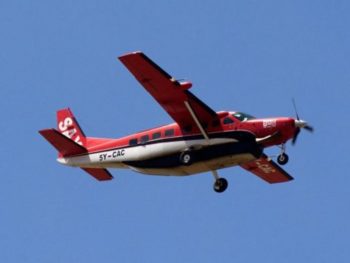 A Kenyan senior government official announced on Thursday that the wreckage of a small passenger plane which disappeared late on Tuesday while flying to Kenya's capital Nairobi has been found.
The Cessna Caravan plane, operated by local firm FlySax, lost contact with control towers minutes before it was scheduled to land at Jomo Kenyatta International airport while flying from Kitale, a farming town in the west.
Aerial search teams spotted the wreckage of the single turboprop engine aircraft, which was carrying eight passengers and two pilots, atop the Aberdare Range, a mountain in central Kenya, Principal Secretary at the Ministry of Transport, Paul Maringa, said.
"A ground team of military specialists in mountain rescue operations has been dispatched to the site," Maringa told a news conference, adding it was located on a densely forested cliff on the mountain.
He did not give any information on the fate of those who were aboard or the cause of the crash. Images on local television news showed the plane was completely destroyed upon impact.
The search and rescue efforts were being hampered by bad weather in the area, including dense fog that limited visibility, Maringa said, urging the public to be patient.
Local air travel has grown in recent years as the economy has expanded and national flag carrier Kenya Airways launched a low-cost domestic carrier called JamboJet in 2014.
Agency Report