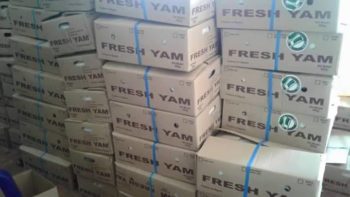 Research being conducted by the International Institute of Tropical Agriculture in seed yam multiplication holds promise and could help Nigeria to quadruple yam production, the Minister for Agriculture and Rural Development, Audu Ogbe, has said.
Addressing reporters after a tour of IITA facilities, including cassava fields, the aflasafe (a biocontrol product for controlling aflatoxins) production plant, the seed yam production facility through the aeroponics system, and a soybean inoculum fertilizer facility, Ogbe said the quality of research at IITA was reassuring and could help Nigeria to address food security challenges and improve on exports.
Ogbeh, who met with the Director General of IITA, Dr. Nteranya Sanginga and other top officials of the institute, said the government would work more closely with IITA to ensure that technology being developed by the institute are scaled out to farmers.
According to him, agriculture holds the future but it cannot be achieved through the use of hoes and cutlasses.
"Agriculture is not just hoe and cutlasses but also research and science. That is what IITA is offering. This institute has come to play a role not just for Nigeria but Africa," he explained.
He added that: "Agriculture has a future. Agriculture has fortunes, and with an Institute like this, those who want to go into agriculture and make money should know that there is money to be made. With you (IITA) we can move forward."
On June 29, 2017, Nigeria inaugurated yam exports with 72 tons of tubers to the United States and Europe, sparking concerns over the ability of the country to sustain exports owing to the high cost of seed yams which is exacerbated by a lack of knowledge on modern seed yam multiplication techniques.