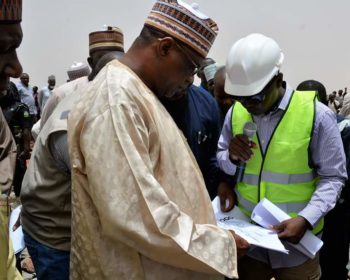 Yobe State Governor, Alhaji Ibrahim Gaidam has said work currently going on at Yobe Cargo International Airport has attained 46 percent completion level.
Gaidam who made this known on Tuesday while inspecting the ongoing project located 20 kilometres from Damaturu, the state capital, said he has released N5.68 billion to the contractors and the work seen so far was impressive.
He stated that the contractors had touched every part of the project simultaneously at a very high speed hence the airport would be completed within the record time.
The governor explained that a special account has been created by the state government for prompt payment to the contractor to enhance the project speed.
He said, "By this, your CV will not suffer any form of payment delay because the money is already there waiting for you to access it."
Gaidam revealed that the airport, which he awarded at cost of N11.237 billion was awarded N69 billion in another state.
He said, "Considering that, Yobe cargo airport is like direct labour to me because it's highly cost-effective."
Briefing the governor, the State Commissioner of Works, Transport and Energy, Lawan Ali, who is also supervising the project, explained that the total work done so far in percentage was: run way, 50; access road, 50; terminal building, 45; and Clear Graded area, 60.
Other projects achieved in percentage are Gatehouse, 50; control tour, 30; perimeter fence phase one,50 and Taxi area, 20.