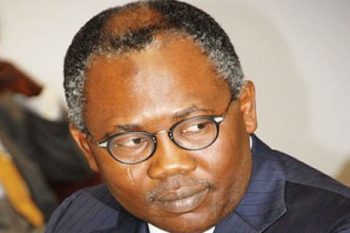 The Federal Government, on Tuesday, said it had intensified effort to arrest and extradite the immediate past Attorney General of the Federation and Minister of Justice, Mohammed Adoke, SAN, back to Nigeria to face two sets of criminal charges over his alleged involvement in $1.3billion oil bloc fraud.
FG said its decision to liaise with international security agencies to arrest the former Justice Minister who has remained outside the country since he vacated office, followed his repeated refusal to surrender himself to the Economic and Financial Crimes Commission (EFCC).
Consequently, government lawyer, Johnson Ojugbane, persuaded the Abuja Division of the Federal High Court to adjourn trial of Adoke and others fingered in the Malabu Oil bloc scandal, till October 26.
Trial Justice John Tsoho okayed the adjournment to enable the prosecution to produce the defendants to enter their plea to criminal charges pending against them before the court.
According to FG, Adoke, who served under former President Goodluck Jonathan, played key role in "a fraudulent deal" that saw the transfer of ownership of a disputed Oil Prospecting License, OPL, 245, to two multinational oil companies, Shell Nigeria Exploration Production Company, Nigeria Agip Exploration Ltd.
OPL 245 is regarded as one of the richest oil blocs in Africa. It was initially awarded to Malabu Oil & Gas Ltd in 1998 by late military head of state, General Sani Abacha, in a process the EFCC insisted was against all known government regulations.
EFCC told the court that investigations revealed that Malabu Oil & Gas Ltd secured OPL 245 through fraudulent scheme involving high scale bribery and corruption by top management of the company and some government officials.
Processes the anti-graft agency filed before the high court further revealed that the oil bloc was later withdrawn from Malabu Oil & Gas Ltd on July 2, 2001, based on the directive of then Presidential Adviser on Petroleum to ex-President Olusegun Obasanjo, after which it was re-allocated to Shell Nigeria Ultra Deep Ltd.
However, following series of litigations, OPL 245 was returned back to Malabu, which EFCC said subsequently went into a fraudulent agreement with Shell and Agip, in which the companies paid signature bonus of $210million to FG, while additional $1.1billion bribe was given to some owners of Malabu Oil $ Gas Ltd led by a former Minister of Petroleum under Abacha, Chief Dan Etete, who as at then was already a convict.
EFCC alleged that it was the former AGF, Adoke, SAN, that helped Shell and Agip to route the bribe money through FG's Escrow Account with JP Morgan Chase Bank in London.
"That sometime in May 2011, Nigeria Agip Exploration and SNEPCO instructed Chase Bank to release the said $1, 092, 040, 000 USD into Escrow Account of the Federal Government.
"That the said money on the instruction of the then AGF, Mohammed Adoke, was transferred from the Escrow Account to two banks namely First Bank and Keystone Bank operated by Dan Etete and Malabu Oil & Gas Ltd.
"The said amount was later laundered with several accounts of individuals and different companies".
Specifically, the agency alleged that Adoke, Etete, an oil mogul, Aliyu Abubakar and Malabu Oil & Gas Ltd, had sometime in 2000, corruptly received the aggregate sum of $801,000,000.00 (Eight hundred and one million Dollars) in relation to the grant of oil prospecting license in respect of OPL 245 from Shell Nigeria Exploration Production Company, Nigeria Agip Exploration Ltd, and ENI SPA.
FG had in December 2016, slammed nine-count criminal charge against Adoke and eight others over the oil bloc scam.
Other defendants in the charge marked FHC/ABJ/CR/268/2016, were Etete and Aliyu, as well as six firms- Malabu Oil & Gas Ltd, Rocky Top Resource Ltd, Imperial Union Ltd, Novel Properties & Development Company Ltd, Group Construction Ltd and MegaTech Engineering Ltd.
Aside Adoke, Etete and Aliyu, other defendants in the second three-count charge marked CR/124/17 and dated February 28, were Shell Nigeria Exploration production Company Ltd, Nigeria Agip Exploration Limited, ENI SPA, four Italians, Ralph Wetzels, Casula Roberto, Pujatti Stefeno, Burrafati Sebestiano and Malabu Oil & Gas Ltd.
Meanwhile, Adoke had since denied his complicity in the alleged crime, insisting that the Malabu deal preceded his tenure in office.
He maintained that the deal was brokered during the tenure of ex-President Olusegun Obasanjo with the Terms of Settlement executed by the then AGF, Chief Bayo Ojo, SAN.
He said the deal was concluded before ex-President Jonathan's tenure, who he said approved the final implementation of the Terms of Settlement.
Adoke said he only executed the resolution agreements since the implementation was situated in the Federal Ministry of Justice, saying recent actions of FG through the EFCC as to impugn a settlement that was done in the national interest.
He urged the present AGF,  Abubakar Malami, SAN, to reveal the truth concerning the Malabu deal.
"As the Chief Law Officer of the Federation, you have a public duty to speak on this matter so that Nigerians would know whether I acted malafide or abused my office in the entire transaction leading to the final implementation of the Settlement.
"Nigerians need to know whether your predecessors in office from 2006 to May 2015 acted in the national interest when they brokered and implemented the Settlement.
"It will also be instructive for Nigerians to know whether your predecessors were carrying out their personal agenda or that their respective actions were carried out with the knowledge and approval of their respective Principals.
"I believe it is your responsibility to explain to the public who are being sold a fiction that the transaction started from President Olusegun Obasanjo, GCFR under whose administration the Terms of Settlement were brokered with Chief Bayo Ojo, SAN, as the then Attorney General who executed the Terms of Settlement before the tenure of President Goodluck Ebele Jonathan, GCFR who approved the final implementation of the Terms of Settlement and my humble self who executed the resolution agreements.
"This is more so as the Settlement and its implementation were situated in the Federal Ministry of Justice.
"Honourable Attorney General of the Federation, your response is crucial because it has become glaring that the actions of the EFCC in respect of the transaction are not in the national interest; but rather in furtherance of a plot to serve the interests of some powerful families and individuals who are aggrieved by my refusal to accede to their requests to compel Malabu to pay them certain sums from the proceeds of its divestment in OPL 245, and the subsequent re-allocation of the Block to Shell/ENI.
"You will recall that I had on several occasions asserted this fact. I am therefore surprised that a national institution is being used to further the interest of individuals whose claim or shareholding in Malabu remains shady and prefer to engage proxies to fight their battles.
"If you find that I had breached my Oath of Office or abused my office, please do not hesitate to bring me to justice. However, if it is the contrary, as I strongly believe, that certain individuals who had vowed to even scores with me are now being aided by state institutions such as the EFCC; I deserve protection from these unwarranted attacks and dehumanising treatment that I am being subjected to merely because I chose to serve my fatherland", Adoke added.