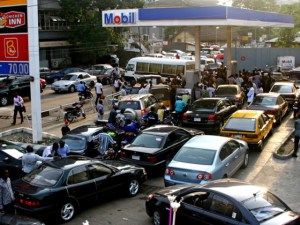 The Federal Government on Thursday ordered the Nigerian National Petroleum Corporation (NNPC), to bring an end to the lingering fuel crisis before the end of the weekend.
Minister of State for Petroleum Resources, Ibe Kachikwu, made this known while briefing newsmen on the Nigerian International Petroleum Summit (NIPS), scheduled to hold between February 18 and 22, 2018.
Kachikwu said the government is highly concerned about the growing fuel queues and is already working round the clock to address the crisis.
He blamed the persistent fuel crisis on logistics and policy challenges, noting however, that the Federal Government is not considering increasing the price of the commodity.
He said: "The President is obviously very committed to keeping the fuel price at the point where it is because he realizes and sympathises with the sufferings of Nigerians. We did a massive price hike two years ago under me. We do not intend to do that again. We need to walk backwards. It requires a lot of efficiency re-engineering and that is one of the things the NNPC and most of the parastatals involved in this are doing."