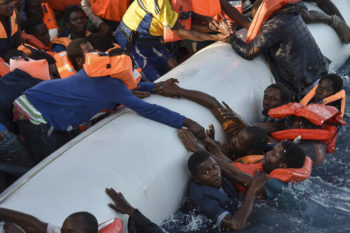 About 100 migrants are missing after a shipwreck off the coast of western Libya, the Libyan navy said on Thursday.
Rescuers discovered at least seven survivors on Wednesday after they had remained for three days at sea, navy spokesman Ayub Kassem said, without providing further details.
The shipwreck occurred off the town of Sabratha, a hub for illegal migration to Europe that has seen violent clashes between rival armed groups since Sunday.
Last week, Libya's coastguard rescued more than 3,000 migrants aiming to cross the Mediterranean to Europe, while Italy picked up another 2,000.
Though the numbers attempting the dangerous voyage have dropped off significantly in recent months, the rescues indicate the route is still very much open.
The tally was the highest reported out of Libya for a one-week period since a dramatic fall in numbers in mid-July.