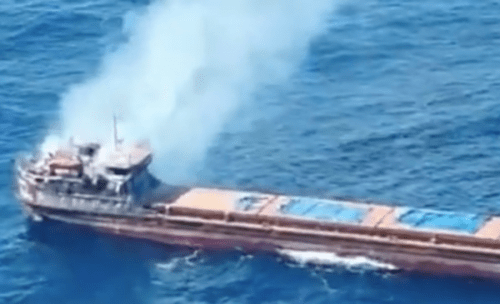 Twelve crew members were rescued from a cargo ship MV Bellatrix after a fire that broke out in the engine room became uncontrollable.
The single-decker ship issued a mayday signal on Wednesday, April 8, while underway some 180 nautical miles southeast from Catania, Italy.
The crew reported that a fire broke out in the engine room, located in the aft of the ship and that they were unable to contain it with the resources onboard seeking immediate assistance.
The nearby merchant vessels MV Arife was transiting the area and came to the rescue of the stricken crew.
The Italian Coast Guard said that the ship was not loaded and that there were no visible signs of pollution in the affected area.
A tug has been hired by the ship's owner to tow the stricken vessel to the port of Aliaga in Turkey.
Based on the data from VesselsValue, the ship is owned by Ukrainian MD Shipping and was built back in 1978.
Several planes and coast guard ships have been dispatched to the scene and are monitoring the area.
The cause of the fire is yet to be determined.
No injuries have been reported.