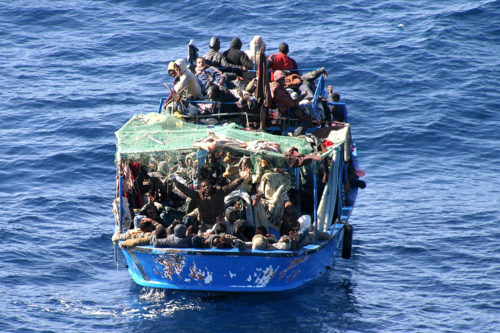 Twelve migrants have managed to reach the English coast after crossing the Channel in a stolen French fishing boat, were intercepted on land after they crossed in calm waters, French authorities said.
The migrants using what French authorities said on Tuesday was an "unprecedented" means of getting to Britain, alerted their British counterparts after seeing a boat that was taking a "bizarre" route between 9.30 pm and midnight on Monday, said Ingrid Parrot, spokeswoman for maritime authorities in northern France.
Officials identified the 12-metre (40-feet) boat and contacted its owner, who said the vessel had been stolen from the port of Boulogne-sur-Mer.
"It's an unprecedented method," Parrot said, noting that previous migrants had previously used rafts or small sailboats unfit for Channel crossings.
Britain's coastguard confirmed it had assisted the Border Force but British authorities had yet to confirm details of the incident, including the nationality of the migrants or where they had landed.
French police are investigating the theft of the boat.
French authorities intercepted migrants in the English Channel 23 times in 2016 and 12 times in 2017.
So far this year French maritime officials have again launched 23 operations, either to rescue migrants in the Channel or to stop groups about to set sail.
Many of the African and Asian migrants who travel to France in the hope of reaching Britain continue to attempt to stow away on trucks crossing the Channel at Calais and other ports.
Last month, French authorities cleared 1,800 people, most of them Iraqi Kurds, from a makeshift camp near the port of Dunkirk.