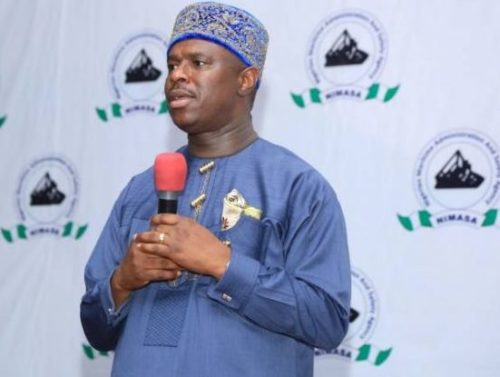 The House of Representatives Committee on Public Petitions has summoned
the Director-General, Nigerian Maritime Administration and Safety Agency
(NIMASA), Dakuku Peterside; and the Executive Secretary, Nigerian
Content Development and Monitoring Board, Simbi Wabote, for allegedly
awarding over N30.32 billion contracts to Topaz Marine Dubai in breach
of the Local Content Act.
The duo are to appear before the committee today.
The committee is acting on a petition by the Civil Liberties Organisation (CLO), dated August 15, 2018, which alleges gross abuse of the Act by Topaz Dubai and Team Offshore Nigeria Limited.
Chairman of the committee, Uzoma Abonta, who issued the summons, said
Peterside and Wabote were invited to explain their alleged failure to stop the huge capital flight through the firm, Topaz Marine Dubai, which executed contracts awarded by three oil multinationals in violation of the Local Content Act.
The Chairman, CLO, South-South zone, Karl Uchegbu, in the petition before the House, alleged that Topaz Marine Dubai, which came to Nigeria in 2012 exploited loopholes it discovered to circumvent the Local Content Act in its business of offshore support services in the oil and gas sector.
The petition reads, "In order to evade complying with Section 3(2) of the Nigerian Content Act, Topaz Dubai suspiciously incorporated Team Offshore Nigeria Limited as a supposedly local entity with members of a law firm as proxy directors who have little or no holding in the company.
"They also proceeded to suspend the flags of over 13 vessels in their fleet, mostly Platform Support Vessels and anchor handlers. These vessels are illegally flying Nigerian flags while they are owned 100 percent by Topaz Dubai and sister companies without a single percentage of ownership allocated to Nigerians.
"Topaz, by virtue of this, is denying indigenous companies that have borrowed from banks at exorbitant interest rates to buy vessels of the jobs required to repay their loan facilities, thereby frustrating the intentions of the Local Content Act and engaging in exportation of capital out of Nigeria."
Uchegbu further alleged that the vessels belonging to Topaz Marine were engaged currently by oil multinationals such as Mobil, Total, and Agip with each making over $18,000 daily on charter rates which is taken entirely out of the country to service foreign interests.
"With full engagement of the vessels at an average of $18,000 per day will give a total of $540,000 per vessel when multiplied by the 13 vessels gives a total of $7,020,000 per month and a cumulative sum of $84,240,000 per year.
"It's on this premise that we wish to appeal that the contracts of Topaz, a few of which we have found to be with Mobil, Total and Chevron be immediately cancelled and awarded to Nigerians who have invested money in acquiring similar vessels to enable them repay their loans."