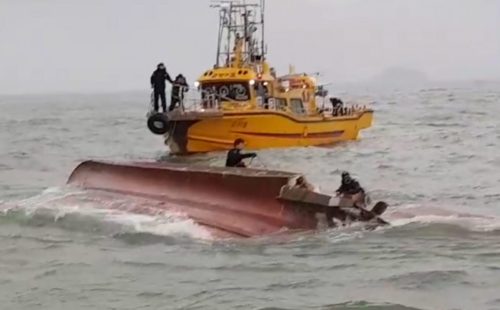 A South Korean trawler and a Japanese fishing boat on Thursday collided
in the Sea of Japan about 330 km (205 miles) northeast of an island claimed by both countries, officials said.
A South Korean Coast Guard official said part of the 48-tonne South Korean trawler was submerged after the collision, which occurred at 9:38 a.m. local time (0038 GMT).
In Tokyo, Chief Cabinet Secretary Yoshihide Suga confirmed the collision and said there had been no casualties on the Japanese boat.
The collision occurred northeast of an island known as Dokdo in South Korea and Takeshima in Japan, located about halfway between the two countries in the Sea of Japan, which Seoul refers to as the East Sea.
South Korea's coast guard has sent a patrol ship and helicopter to the area to investigate the cause of the incident.
"We'll look into how the collision took place once our ship arrives on the scene," the official said.