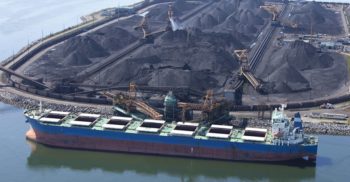 A combination of bad weather and road blockages along with a recent rises in coal demand from China has led to bad congestion at Kalimantan ports and disruption of coal supplies, Reuters reported.
The news wire cited coal traders and ship operator as saying the disruptions were affecting coal ports near Samarinda in the province of East Kalimantan and Taboneo, near the capital of South Kalimantan, Banjarmasin, with some 130 vessels currently offshore Kalimantan according to Reuters.
"The area most affected is getting coal down the Barito River to coastal ports like Taboneo," one coal barge shipper from Kalimantan, was quoted as saying. Shipping data shows around 30 large vessels are currently waiting to load coal at Taboneo, with several having already waited for about six weeks.
The number of vessels waiting to load coal at one of the world's top thermal coal mining areas has risen from 108 a week ago and some of the ships have been waiting since late December.
"Local authorities are delaying shipping and export licenses, and that is what is causing delays," a local source was quoted as saying. Meanwhile local media reported that coal hauling roads in three locations had been closed by the South Kalimantan government.
Sources said the persistent delays could start resulting in vessel cancellations or repositioning to other areas in Indonesia to clear some of the backlog.
Supply shifts to Australian coal could also lead to rises in the price of seaborne coal and higher ton-miles for shipowners.
Copyright Ships & Ports Ltd. Permission to use quotations from this article is granted subject to appropriate credit given to www.shipsandports.com.ng as the source.