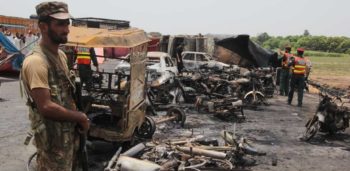 A fuel tanker wrecked in eastern Pakistan on Sunday, and as villagers converged to collect fuel leaking from the truck, it exploded, killing at least 140 people, according to police and hospital officials.
Nishtar Hospital, which is treating many of the wounded, said in a statement that more than 100 people were injured in the blast. Bahawalpur's Victoria Hospital said it was treating 40 victims, all of whom had suffered burns on at least 70% of their bodies.
A state of emergency has been declared in the city, Punjab provincial government spokesman Salman Sufi said. Hospitals have been placed on high alert.
The truck veered off the road when the driver lost control in Bahawalpur, police official Mohammad Akhtar said. As the tanker sat on the side of the road, fuel began leaking out in large pools.
Hundreds of people from nearby villages, as well as workers at a mango garden — many of them driving cars or motorcycles — rushed to collect the fuel in pots, according to the government-run Associated Press of Pakistan.
The blast engulfed everything around the truck, including women and children, reported. Many victims died immediately, while others succumbed to their injuries at hospitals.
Some of the people gathering at the scene began smoking cigarettes and using their cell phones to inform friends and relatives of the crash, either of which could have ignited the fire, Haroon-ur-Rasheed, a former police official who now handles emergency and rescue operations in Bahawalpur, said. 
"Yes, sparking from cell phones could ignite fire," he told newsmen, adding that the tanker also was fitted with batteries that could have sparked the blaze.
Officers with the National Highways and Motorway Police urged villagers to stay away from the vehicle, but to no avail, police sources said. 
The tanker was carrying 25,000 liters of fuel from Karachi to Lahore, roughly 440 kilometers northeast of Bawalpahur.
Images from the scene showed the truck overturned with a gaping hole atop the tanker where the blast had ripped it open.
It was surrounded by the husks of burned-out motorbikes and automobiles, their windows and tires melted away from the heat.
According to APP, the explosion destroyed 75 motorbikes and six automobiles. Bodies were pulled from cars and a motorcycle rickshaw, APP said.
A villager, Mohammad Shabbir, said the vehicle's driver had warned people to stay away from the truck but his warnings were not heeded.
Pakistan's Inter-Services Public Relations, the media wing of Pakistan's military, said army helicopters transported 51 people 97 kilometers north to Combined Military Hospital Multan. They're all in critical condition, ISPR said.
It added that the road had been reopened and that traffic had started to flow again.
Shortly after the accident, Pakistan Prime Minister Muhammad Nawaz Sharif "expressed deep grief over the heavy loss of life."
"The Prime Minister has directed provincial government to provide full medical assistance to the injured with burns," a statement from his office said. "The Prime Minister has expressed sympathies with the bereaved families and prayed for the departed souls."
Amid criticism that the government has failed to respond adequately to the tragedy, the prime minister's daughter tweeted that Sharif would cut short his trip to London and return to Pakistan immediately. He was in London for his grandson's graduation ceremony, Maryam Nawaz Sharif tweeted.
Chief Minister of Punjab Muhammad Shehbaz Sharif has said an inquiry will be held into the incident.
Imran Khan, chairman of the Pakistan Tehreek-e-Insaf party, tweeted that the blaze was "a national tragedy of epic proportions."
The politician and former cricketer said he had asked local leadership to assess what assistance could be provided to the injured and victims' families.
We pay for your stories! Do you have a story for Ships & Ports? Email us at [email protected] or call 0810 359 4873. You can also WhatsApp us here. We pay for videos too.

 

Copyright Ships & Ports Ltd. Permission to use quotations from this article is granted subject to appropriate credit given to www.shipsandports.com.ng as the source.