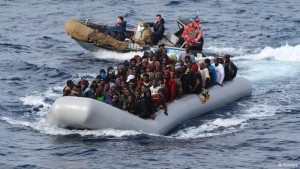 No fewer than 14,118 Nigerians have migrated to Italy irregularly this year alone, according to International Organization for Migration (IOM).
IMO's Chief of Mission, Enira Krdzalic disclosed this while speaking at the launch of the EU-IOM initiative for migration protection and reintegration in Abuja on Thursday.
She said a total of 111,148 migrants have arrived in Italy by sea after crossing the Mediterranean, adding that "Nigeria accounted for the main country of origin of migrants arriving in Italy."
She also disclosed that between January and June 2017, more than 1,800 Nigerian migrants stranded in Libya and Niger have been assisted to return to Nigeria by IOM.
While lamenting that there was an increasing trend of irregular migration from Nigeria, Krdzalic called for urgent actions to address the situation.
Speaking on the EU-IOM initiative, she said it would help protect the security, divinity and rights of migrants along the central Mediterranean migration routes while also strengthening the technical and operational capacities of institutions involved in migration related activities.
European Union's Head of Cooperation, Kurt Cornelis said the initiative is being implemented in 14 countries, adding that Nigeria has been allocated €15.5millon for three years.
While speaking at the occasion, the federal commissioner of National Commission for Refugees, Migrants and Internally Displaced Persons, Sadiya Farouq commended the international bodies and other civil society organisations for their assistance to the government.
She however, warned that all activities must have integrated focus, insisting that "we should avoid implementing all programs in fragmented and isolated manner."