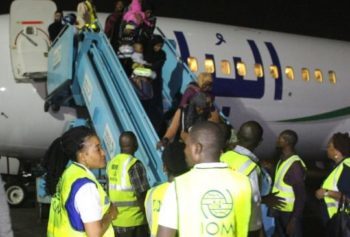 The National Emergency Management Agency (NEMA) on Thursday in Lagos received 149 Nigerian migrants repatriated from Libya.
The migrants arrived the Murtala Muhammed International Airport, Lagos, aboard a chartered flight operated by Buraq Airline with registration number 5A-DMG.
The aircraft landed at about 10:45 p.m. at the Cargo Wing of the airport. The deportees comprised of 107 male adults, 37 female adults including a medical case, four female children and one female infant.
The programme manager of International Organisation for Migration (IOM), Lagos, Abraham Tamrat, handed them over to the South West Zonal Coordinator of NEMA, Yakubu Suleiman.
Suleiman thanked the IOM and the European Union (EU) for facilitating the repatriation of the Nigerians who had been stranded en route from Libya to Europe.
He admonished the returnees to shun the urge of seeking greener pastures outside the country.
Suleiman said all nations in the world were facing various challenges as a result of global economic meltdown.
"Nigeria has more than enough resources to cater for our needs but it is left for every one of us to tap from any of these abundant resources," he said.
He added both the Federal and state governments had lots of incentives for their rehabilitation and reintegration to complement the efforts of EU and IOM.
Also speaking, Tamat said the IOM had assisted over 7,000 Nigerians back from Libya under the voluntary return assistance programme and would continue to assist persons who indicate interest to return.
The returnees were also received by officials of the Nigerian Immigration Service (NIS), the National Agency for the Prohibition of Trafficking in Persons (NAPTIP), Federal Airports Authority of Nigeria (FAAN) and the Nigeria Police.
The telecommunications company, Airtel, in collaboration with the Office of the Senior Special Assistant to the President on Diaspora and Foreign Affairs, also gave the returnees free mobile cellphones and sim cards to facilitate their reintegration.