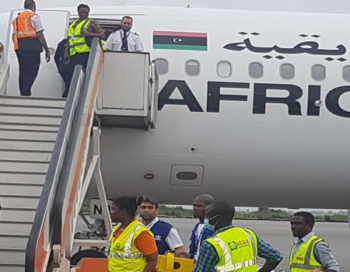 41 Nigerians deported from seven European countries for committing immigration-related offences arrived the Murtala Muhammed International Airport in Lagos on Thursday.
The Nigerians were deported from Australia, Switzerland, Hungary, Netherlands, Germany, Norway and Denmark.
An aircraft with registration mark EC-120 which flew in the deportees, comprising 35 males and six females, touched down at 10.50 a.m.
Spokesman of the Lagos Airport Police Command, Joseph Alabi, confirmed the development.
Alabi said, "This morning, we received 41 Nigerians who were brought back from Europe. They were made up of 35 males and six females."
He said all the deportees were alleged to have committed immigration-related offences in their host countries.
He said the deportees were received by officers of the Nigerian Immigration Service, NIS, the National Agency for the Prohibition of Trafficking in Persons (NAPTIP) and the Police.
Also on ground to receive them were officials of the Federal Airports Authority of Nigeria, FAAN, and the National Drug Law Enforcement Agency (NDLEA).
The deportees were profiled by immigration authorities and were allowed to depart to their various destinations.
It will be recalled that 34 Nigerians were deported from six European countries on June 22 for committing similar offences.
The Nigerians were deported from Switzerland, Germany, Iceland, Austria, Belgium and Hungary.
In a separate development, 128 Nigerians have voluntarily returned home after their attempts to migrate to Europe through Libya and other irregular channels failed.
No fewer than six of the returnees were brought back to Nigeria with medical conditions and were evacuated in ambulances provided by the National Emergency Management Agency (NEMA).
The returnees from Libya were brought back to the country by a chartered Airbus 320 aircraft operated by the Libyan government-owned Afriqiyah Airways.
The aircraft transporting the Nigerians from Libya touched down at Murtala Muhammed International Airport in Lagos at 5:35 p.m. local time.
The returnees were assisted back to Nigeria by the International Organization for Migration (IOM) in conjunction with Nigerian federal government agencies.
Addressing reporters, Paul Ohemu, director of Search and Rescue at NEMA, said the agency, in collaboration with the IOM, was working to stem illegal and unsafe migration and return stranded Nigerians from Libya.
Ohemu advised Nigerians to stay home and contribute to the socioeconomic development of the country.
"There are a lot of things you can do in Nigeria here. You don't have to travel outside the country in search of greener pastures.
"My advice to parents is to keep tabs on their children and to ensure that they know where their children are going to and not to be deceived by phantom promises," he said.
Ohemu said NEMA and some state governments have put various schemes in place to help rehabilitate and reintegrate the returnees into Nigerian society.
The current repatriation from Libya is coming exactly two weeks after 180 Nigerians who were trapped in the war-torn North African country were returned home.
Copyright Ships & Ports Ltd. Permission to use quotations from this article is granted subject to appropriate credit given to www.shipsandports.com.ng as the source.