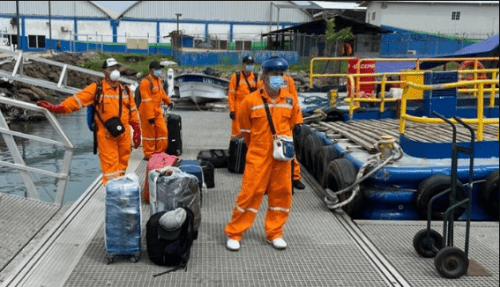 15 Filipino crew members onboard the Hong Kong-flagged vessel PTI Sextans arrested in Panama are being repatriated on humanitarian grounds despite Covid-19 restrictions.
The Wilford & McKay Shipping Agency at the Panama Canal (part of Shipsagent Group) acting as agents safely carried out a two-day crew disembarkation operation that was completed successfully Tuesday.
The tanker PTI Sextans was arrested in a commercial dispute filed with the Panama courts.
Thome Ship Management, and the vessel owners, arranged for a special humanitarian charter to pick up the Filipino crew stranded in Panama, and fly to the US, where they will board two more flights back home to the Philippines.
The owners also brought to Panama a new 17-man crew consisting of 14 Indians, one Croatian, one Bulgarian and one Ukrainian seafarer.
The humanitarian authorisation for this operation was given by the Minister of Health of Panama Dr. Rosario Turner and the Labour Minister of Labour Doris Zapata, whose concern and assistance for the wellbeing of these seafarers proved instrumental.
Panamanian Health authorities assisted in insuring that the health of seafarers was the number one priority during this operation with social distancing guides mandated. The seafarers could only be disembarked and embarked two at a time.  Both the Ministry of Health and Ministry of Labour insisted correct safety measures were taken.