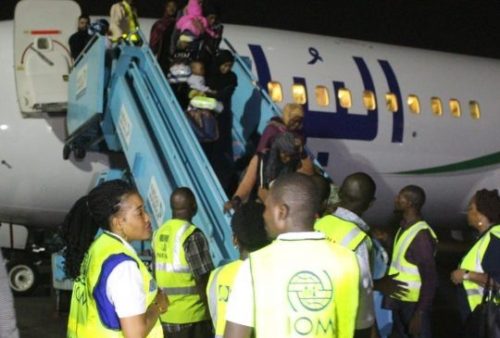 The National Emergency Management Agency (NEMA) late Thursday in Lagos received another batch of 160 repatriated Nigerian migrants from Libya.
The migrants arrived the Cargo Wing of the Murtala Muhammed International Airport (MMIA), Ikeja Lagos aboard a Nouvel Air aeroplane facilitated by the European Assisted Voluntary Returnees program being run by International Organisation for Migration (IOM).
Receiving the returnee migrants, The Coordinator, Lagos Territorial office of the National Emergency Management Agency (NEMA), Alh Idris Muhammed urged Nigerians still aspiring to travel out of the country to desist from irregular migration.
The repatriated migrants consist of 68 female adults, one female child and five female infants as well as 79 male adults, two male children and five male infants, making 74 females and 86 males, including a psychologically traumatized adult male.