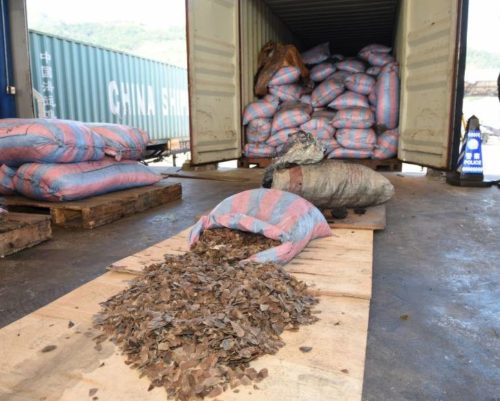 The Nigeria Customs Service (NCS) has said it impounded 14,833 metric tonnes of Pangolin scales worth over $900 million in 2018.
According to the NCS, the seizure is the highest in the world, followed by a 7.100kg seizure in Japan in the same year with an estimated value of $450 million, said to have originated from Nigeria.
Asst. Comptroller Mutalib Sule of the Federal Operations Unit, Zone A, Lagos, made this known on Wednesday at the 2019 World Pangolin Day celebration in Lagos.
"The summary of Pangolin seizure by the FOU Zone A under my superintendent in the year 2018 is 14,833 metric tonnes.
"My study across the world revealed that this is the highest seizure of Pangolin in the world.
"Going by this, Nigeria's seizure under my watch cannot be less than 900,000,000 million dollars or even more, he said.
Pangolins are hunted for food, use in traditional medicines and as fashion ornaments.
The roasted scales of the animal are believed to cure cancer, relieve palsy and even stimulate breast milk in Asia.
Pangolin is among the endangered species protected by the Convention on International Trade in Endangered Species of Wild Fauna and Flora (CITES), to which Nigeria is a signatory.