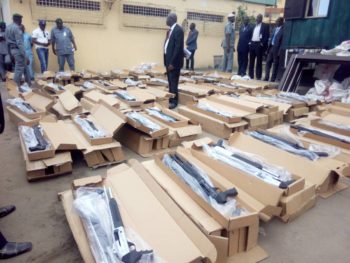 Commissioner of Port Police, Western Port, Celestine Okoye has accused the Nigeria Customs Service of sidelining the Police in its investigation into the series of illegal arms importation into the country and failing to handover the arms to the police.
Okoye who spoke in an exclusive interview with SHIPS & PORTS DAILY in Lagos said Customs ought to have handed the arms to the Nigeria Police Force for proper investigation but this had not been done since the latest interception of 470 pump action rifles at the Tin Can Island Port last month.
He recalled that even the 661 pump action rifles that was intercepted in January 2017 was handed over to the Department for State Security Service (DSS), which according to him should have been handed over to the Police as the lead agency in internal security.
He said, "If the ones intercepted in January were handed over to DSS, it then means that this other ones, will be handed over to the same agency. We are supposed to be the ones to take custody of those guns, so police is therefore neglected, that is the meaning. We are still waiting for Customs to communicate to us because I don't know why they are handing over the arms to DSS.
"Even the ones recovered now, we have not heard anything again. After Customs had finish doing their investigation, these guns ought to be returned to the police for proper investigation but it is not sent to me. Nobody is telling us anything and I don't know where they sent the arms to. Maybe they have different arrangement. 
"We will just keep calm and anytime they (Customs) finish and call us to come and take custody of the guns we will do so; do the investigation and our prosecution because the law is there for whoever imports such and it is our duty to prosecute the person.
"But if it is their resolve to be handing over the arms to DSS, we will not challenge that, we will just keep calm. If DSS decides to investigate and do the investigation, no problem but the constitutional powers is in the police so open that these arms should come to us,"
Okoye also insisted that police has the right to intercept containers from the port based on information.
"The only time you can see us react or intercept any container is when information comes to us that the container is carrying an offensive import either bulletproof vehicles or arms. We will stop it because ours is to provide security. It can be embarrassing to me that where I am working arms are coming in and police is not in the know," he said.
A senior Customs officer at the Tin Can Island Command who craved anonymity confirmed to SHIPS & PORTS DAILY that the arms are still in the custody of the command pending further directives from the Customs headquarters.