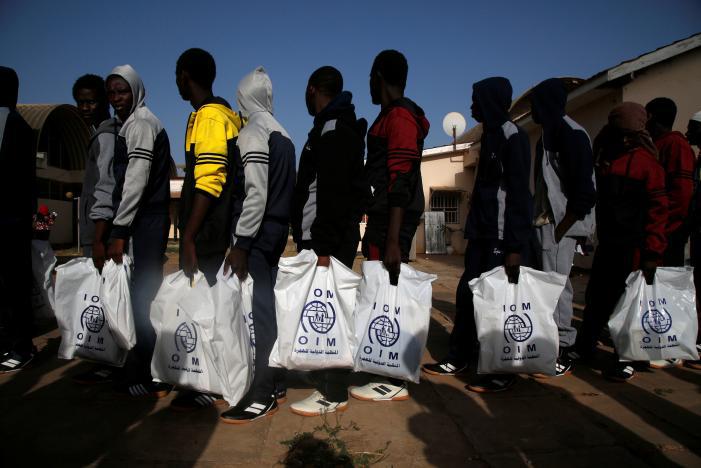 About 169 Gambian migrants on Wednesday returned home, after journeying across the Sahara in harsh conditions.
The returnees were mostly young men in their 20s, seeking a better life abroad, but also some women and children.
Most of the Gambian migrants had been gone for more than a year.
The International Organisation of Migration (IOM) and Gambian government helped release them from detention centres in Tripoli and elsewhere.
European governments are struggling to find a response to the flow of migrants over the Mediterranean from Libya, and the appalling conditions in detention camps run by traffickers or the Libyan government.
A returnee, Lamin Korita, 26, said he was glad to have ended a 13-month journey that got him arrested in Tripoli.
He said he had wanted to make it to Italy and find work there.
"It's a relief to be home," he said, though he wasn't sure what he would do now without skills and in a country with few jobs.
For others, the trauma of their ordeal remained raw.
Another returnee, Modou Badjie, 27, said, "Libya was horrible for us. There was no peace. People hit me, they used sticks against me like I was an animal".
Badjie, a former Gambian soldier who said he was beaten by bandits in Libya, added that he ended up in a crammed migrant camp in Tripoli. 
Copyright Ships & Ports Ltd. Permission to use quotations from this article is granted subject to appropriate credit given to www.shipsandports.com.ng as the source.