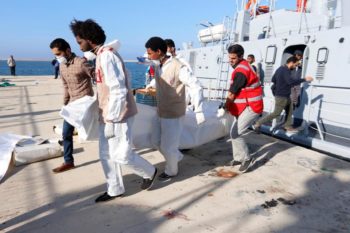 At least 31 migrants died and 200 were rescued after they were set on by sharks during a perilous crossing from Africa to Italy, Libya's navy has said.
Some 18 women and three children were among the dead, while 40 people were still missing.
When Libyan coastguard boats arrived at the scene, they spotted large blue sharks swimming around the boat, according to Italian media.
"When we arrived in the area, off the town of Garabulli, one dinghy was semi-submerged and still had 44 people clinging on to it, whom we saved," Libyan patrol boat commander, Nasser al-Ghammoudi told Italian newspaper Il Giorno.
'There were lots of bodies all around and we saw there were four or five sharks swimming among them, large blue sharks, a very aggressive species.
"When we brought the bodies on board we noticed that some of them had been bitten, so it's possible that among the missing some may have been eaten."
The coastguard conducted two rescue operations off the city of Garabulli, 40 miles east of Tripoli, Libya's navy said.
Those rescued were brought to a naval base in Tripoli where they were given water, food and medical care.
Spokesman Colonel Abu Ajila Abdelbarri added that patrols had found 31 bodies and 60 survivors from one boat, while all 140 passengers had survived in the second boat.
He said, "When we arrived at the spot, we found an inflatable dinghy with several people clinging to part of it." 
Migrants from Somalia, Ghana, Ethiopia, Nigeria and four from Pakistan were among those rescued on Saturday.
Al-Ghammoudi said one of the vessels was three-quarters under water when the coastguard arrived.
He added, "We looked for other survivors for more than five hours. We were able to rescue one woman after we heard her shouts." 
Mild weather and calm seas have led to a rise in the number of migrant journeys from Libya to Europe in recent days. 
Copyright Ships & Ports Ltd. Permission to use quotations from this article is granted subject to appropriate credit given to www.shipsandports.com.ng as the source.