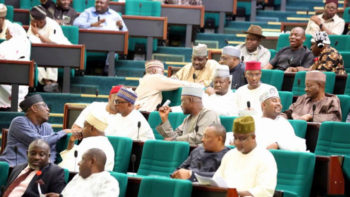 The House of Representatives has queried the Central Bank of Nigeria (CBN) for a staggering $81.2bn imbalance in crude oil sale proceeds declared by the apex bank for the years 2011 to 2014.
The query was sent to the CBN by the House ad hoc committee investigating the alleged export of $17bn undeclared crude and gas resources from the country between 2011 and 2014.
The committee, which is chaired by a member of the All Progressives Congress from Adamawa State,  Abdulrazak Namdas, had earlier queried the Nigerian National Petroleum Corporation (NNPC) over the same imbalance.
According to documents,  the committee had analysed records submitted to it by the Department of Petroleum Resources, the Nigerian Extractive Industries Transparency Initiative and the NNPC for the years under review.
From the analysis, the total crude revenue came to $123.9bn.
But the committee observed that the CBN's "declaration of crude oil sale revenue receipts" for 2011 to 2014 was $42.7bn, leaving a balance of $81.2bn.
Like the committee asked in an earlier query to the NNPC, it asked the apex bank, "Can the CBN account for the balance of $81.2bn?"
The average crude oil price/barrel for the respective years was $111.90 (2011); $112.01 (2012); $110.12 (2013); and $101.91 (2014).
The barrels sold for the respective years were 301.7 million; 296.4 million; 267.1 million; and 270.7 million, bringing the total barrels for the four years to 1.136 billion.
According to the committee, the year-by-year breakdown of the expected earning was $33.7bn (2011); $33.2bn (2012); $29.4 (2013); and $27.5bn (2014), totalling $123.9bn.
Besides, the committee queried the manner the $42.7bn the CBN declared was distributed, resulting in a balance of only $7.5bn for sharing by the three tiers of government.
The CBN claimed that over $35.5bn was expended as Cash Call and payment into the controversial Excess Crude Account.
Part of the query the committee sent to the apex bank read, "That out of $42.7bn you declared as crude oil sales receipt, that $35.2bn, representing 82.4 per cent, went into a bottomless pit called Cash Call and Excess Crude Account, and only $7.5bn, representing 17.6 per cent, was available for distribution to the three tiers of government."
Findings also showed that the committee demanded details of a "suspicious" account in the CBN into which several oil firms made payments for the crude they lifted between 2011 and 2014.
The account had the name 'CBN Petroleum Profit Tax FIRS Account', with the number 0000004002166.
Investigations indicated that lawmakers had sought the details because they believed it was not the appropriate account for the remittance of crude and gas proceeds.
The committee named Sahara Energy and Aiteo Energy as two examples of firms that made payments into the account.
The two firms allegedly paid $687.2m into the account under investigation.