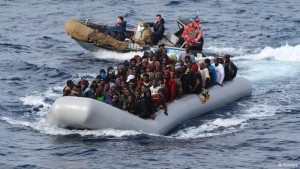 About 2,300 people have been rescued and two bodies recovered in the latest migrant rescues in the central Mediterranean, the Italian coast guard said on Thursday.
"Migrants were plucked from 14 dinghies and four wooden boats by three coast guard vessel, a rescue ship run by the Doctors without Borders (MSF) charity and by passing cargo ships,'' a statement said.
A day earlier, the coast guard had reported the rescue of about 1,800 people and the recovery of 34 bodies following the capsizing of a migrant boat which threw about 200 people into the sea.
The route between Italy and Libya is the world's most dangerous for sea migrants.
On Tuesday, the International Organisation for Migration said 1,252 people died or went missing there since Jan. 1.
The central Mediterranean latest casualties were announced on the eve of a two-day G7 summit in Sicily in which migration and development in Africa were expected to be among the top agenda items.