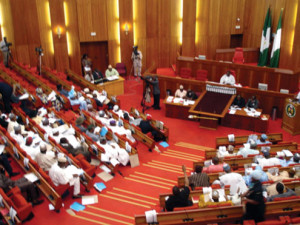 President of the Senate, Senator Bukola Saraki, at the plenary on Thursday, said the chamber will not extend today's deadline for the standing committees to submit their reports on the 2017 Appropriation Bill.
Senate committees are expected to submit their reports to this Committee on Appropriations after their interface with ministries, departments and agencies.
The Committee on Appropriations is to harmonise the reports and present to the lawmakers for passage.
Chairman, Senate Committee on Media and Public Affairs, Senator Sabi Abdullahi, also stepped out of the plenary to corroborate Saraki in a chat with journalists.
Saraki had on Tuesday said over 20 committees had yet to submit their reports.