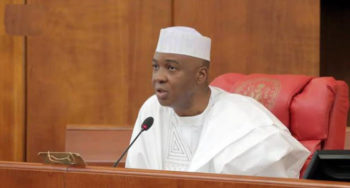 The Senate President, Bukola Saraki, has urged chairpersons of committees to submit their reports on the 2018 appropriation bill, adding that Friday 13th April remains the last date of submission.
He also listed 20 committees which had yet to make submissions to the committee on appropriation.
Saraki said, "My meeting with the chairman appropriation as of yesterday still shows a number of committees have not submitted reports. You know, we try as much as possible not to list but I have other no alternative than to list these committees so that the chairmen can know that they are holding all of us.
"The following subcommittees have not submitted and they must submit unfailingly tomorrow."
The Senate President listed the committees to include: Defence, Army, Airforce, Navy, Industry, FCT, State and Local Government, Sport and Tourism, Petroleum Downstream and Upstream.
Others are, Niger Delta, SDG, Primary Healthcare and Communicable Diseases, Health, Capital Market, Tertiary institutions and TETFUND, FEMA, Works, Power, Corporation and Integration.
Saraki after reading the list reiterated the need to stick to the deadline.
He said, "These 20 subcommittees must ensure that their reports are submitted on Friday. We have a deadline to which we have committed and which you cannot hold us up any further."