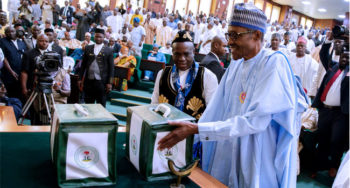 Vice President Yemi Osinbajo has lamented the delayed passage of the 2018 budget by the National Assembly seven months after the appropriation bill was submitted by the executive.
Osinbajo added that the presidency is expecting speedy passage of the budget, and would continue to interact with the legislators for a positive outcome.
The Vice President stated this during a visit of The Companion, an association of Muslim men in business and professions in Abuja.
He said, "Our budget for this year was submitted to the National Assembly since October last year but yet to be passed in April 2018. We will continue to engage the National Assembly for accelerated passage."
Osinbajo, however, disclosed that all Ministries, Departments and Agencies (MDA's) would be made to submit their expenditure in line with budget as well and in compliance with the accounting year.
He said the Federal Government is working hard to improve the Ease of Doing Business and attract more Foreign Direct Investment (FDI) over a period of time.
Osinbajo explained that the Federal Government has made much improvement in agriculture and now depends largely on local rice production, which has reduced import by about 90 percent.
He said, "We are looking at improved capacity of the refineries and reducing dependency on the importation of PMS."
The Vice President stressed the Federal Government's determination, particularly in improving standards of vocational education and tertiary institutions, infrastructure, and general reform in the society.
The National Amir (President) of the association, Thabit Adewale Sonaike, urged the Federal Government to urgently bring the carnage perpetrated by herdsmen to an end.
He warned that the huge gains that have been reported in food production nationwide would be jeopardised if urgent steps were not taken to arrest the situation and enduring solution put in place.