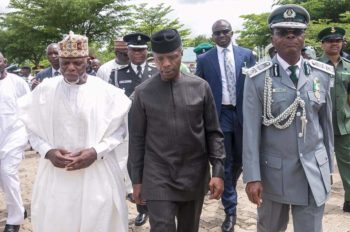 Vice President Yemi Osinbajo on Thursday expressed support for an upward review in the remuneration of personnel of the Nigeria Customs Service (NCS).
The Vice President expressed his support at the graduation of customs officers from the Senior Division Course O1, at the Nigeria Customs Command and Staff College, Gwagwalada, in Abuja.
Osinbajo described the role of NCS as dynamic and an important public resource for the control of the movement of persons and goods across our borders and revenue collection.
He noted that customs has performed these roles exceptionally in the past few years, recording the highest revenue collection ever in the nation's history of over N1 trillion in 2017.
Osinbajo said, "This is despite the recession in the preceding year and low volume of imports and restrictions placed on 41 items from accessing Forex.
"In May, the service collected N100 billion in revenues, the highest figure in one month.
"Besides, we are all witnesses to the very many seizures of contraband goods, and especially arms in the past two years.
"I agree that an enhanced remuneration structure is deserved.''
According to him, it was also obvious that the service recognised the pivotal role of technology.
The Vice President said that with the deployment of the E-auction and other electronic platforms, the NCS would play a greater role as an economic investment facilitator.
He said, "In the past 18 months, the Comptroller-General of Customs has sat with us at the Presidential Enabling Business Environment Council (PEBEC), and the EMT not as a revenue-generating agency but as a critical player in creating an enabling environment for business."
Osinbajo noted that with the active collaboration of the Comptroller-General, "we have reduced processes and documentation required for import and export''.
"We are also on the threshold of launching the National Trade Platform,'' Osinbajo said.
According to the vice president, the platform is the integration of all ports, Customs processes and documentation through a single window.
He said this will remarkably cut down processing time for all inward and outward trade, increase revenues, and introduce visibility and of course transparency to all transactions.