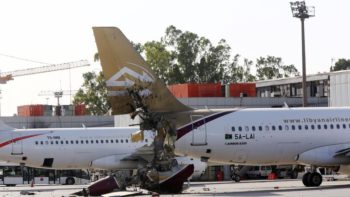 Libya's main airport was hit by rockets on Thursday, which damaged a plane as it was waiting to take off, a security force said.
One rocket hit an Airbus 320 of state-run Libyan Airlines, and others struck the arrivals hall at Tripoli's Mitiga airport at around 2 a.m.(0000 GMT), but no one was injured, a spokesman for the Special Deterrence Force (Rada) said.
Photos circulating on social media showed a tear in the tarmac and holes in the wing and body of the plane.
Tripoli has been controlled by a patchwork of armed groups since a 2011 uprising that toppled long-time leader Muammar Gaddafi and splintered the country.
Armed groups fighting for territory and power have regularly attacked the city's transport hubs, undermining the government's efforts to persuade diplomatic missions to return to the capital.
There have been rival governments in Tripoli and the east since 2014, when most diplomatic missions evacuated to neighbouring Tunisia.
Airlines have struggled to maintain services and keep the oil-producing country connected to the outside world as attacks damage their planes.
Mitiga is the only operating airport in Tripoli. Fighting in 2014 put the main international airport out of service.
Rada, a security group aligned to Libya's internationally recognised government that controls the airport, said the rockets were fired by men loyal to a militia leader known as Bashir "the Cow" Khalfalla, a group it has clashed with before and which it blames for regular night-time shelling of Mitiga.
Agency Report