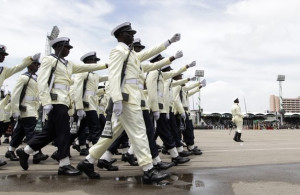 The 11th Nigerian Navy Games will hold in Uyo, Akwa Ibom from Feb. 26 to March 4, Vice Adm. Ibok-Ete Ibas, the Chief of Naval Staff, has said.
However, the water sports events of the Games, including swimming, kayak, sailing and boat handling, an innovation in this year's edition, had taken place in Lagos from Feb. 6 to Feb. 9.
Ibas told a news conference on Friday in Abuja that the games would feature 21 sports.
Ibas, represented by the Chief of Administration, Rear Admiral Henry Babalola, said the Games were geared toward building strong mental and physical fitness of naval personnel to man ships.
"Sports and physical training have been the bedrock of Naval personnel's daily mental and physical readiness for sea and ashore duties.
"They are important factors in the management of personnel in the Navy and therefore have always attracted attention from the authorities,'' he said.
Ibas said the promotion of mass participation in sports by personnel onboard ships and ashore establishments helped to promote `esprit de corp' that would enhance healthy working environment.
He said the games would also help to develop talents among the personnel and raise strong teams to represent the Navy and the Armed Forces in national and international sports competitions.
Ibas said that the consistency of the Games had helped to improve the quality of participation in each edition.
He said that the games would be declared open by the Minister of Defence, Mansur Muhammed, while the Senate President, Bukola Saraki would be the Special Guest of honour at the closing ceremony.