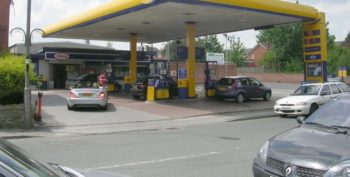 The Department of Petroleum Resources (DPR), Eket field office has strengthened its partnership with the Nigeria Security and Civil Defence Corps (NSCDC) to prosecute petroleum marketers operating unlicensed petrol stations in the state.
Operations Controller of DPR in Akwa Ibom, Tamunoiminabo Kingsley-Sundaye, made this known when he paid a courtesy visit to the NSCDC Command in Uyo on Tuesday.
He said that the department would also strengthen its relationship with NSCDC to ensure that government activities were achieved in the state.
"DPR does not charge offenders to court but the sister agencies have the powers to do that.
"For us to conclude the job, we need to strengthen our partnership with government agencies to achieve a common goal.
"If there are obvious malpractices in filling stations or petroleum products are adulterated, it is the security outfit of government that will apprehend the culprits," Kingsley-Sundaye said.
He stressed the importance of DPR strengthening its partnership with sister agencies to achieve a common goal in the state.
Kingsley-Sundaye said that there were lots of illegal activities in the downstream sector that needed the partnership of the NSCDC to bring to sanity.
"We want a better Nigeria where people will see us as a civilised country where we respect law and order, "he said.
The DPR boss promised that the department would stand as witness to the NSCDC in the prosecution of the offenders so that the law would take its course.
He warned petroleum marketers to desist from violating DPR seal order in the state, saying that 20 percent of filling stations in the state were illegal.
Kingsley-Sundaye said DPR would soon go after marketers selling LPG cylinder at unauthorised areas and unlicensed stations in the state.
"We will be on the road to educate them and those who don't want to be educated, the law must be applied," he said.
The Akwa Ibom Commander of the NSCDC, Obiajulu Obiageli, promised to strengthen the synergy between the command and DPR.
She said that since her assumption in office, the command had won 48 cases and 168 offenders had been successfully prosecuted and jailed accordingly.
"We must get to the Federal High Court, where we have the right to prosecute," she said.
She said that the command had accosted a lot of adulterated petroleum products in the state, adding that once the department called on NSCDC, the corps would be ready to respond.
"You will have our support to fight against the adulteration of petroleum products and others. The partnership is there; we will do our job to achieve a common goal," Obiageli said.