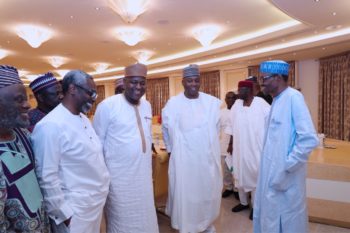 President Muhammadu Buhari has directed all ministers and parastatals to appear before the National Assembly to defend their budgets.
The Secretary to the Government of the Federation, Boss Mustapha, made this known in an interview with State House correspondents. The interview came on the heels of a meeting Buhari had with leaders of the National Assembly at the Presidential Villa, Abuja on Thursday.
Mustapha said, "The President gave updated the lawmakers on security, the economy and job creation processes especially with regards to the budget and the need to conclude on it.
"Mr. President has instructed that all ministers and parastatals should ensure that they appear before the National Assembly to defend their submissions so that we can get this out of the way.
"You know this is a very dynamic year and we are preparing for elections. This is in addition to security challenges have in the country and so if we don't appropriate, where will the money come from?"
The President of the Senate, Bukola Saraki, also said that the focus of the meeting was on the budget, security and other national issues.
He said the National Assembly leadership also gave the President their opinions during the interaction.
Saraki said the legislature was working on the budget, noting that some agencies were yet to defend their budget
"We are hoping that with the speed up now, they will come and defend their budget," he said.