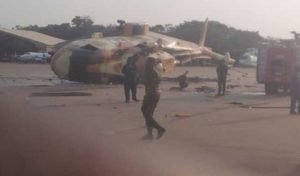 Barely two months after the presidency handed over two aircraft in the Presidential fleet to the Nigerian Air Force, one of the ballistics defence capable aircraft has crashed at the Nigerian Air Force base, Makurdi, Benue State.
Agusta AW 101, a medium-lift helicopter specially designed for military operations,  crashed less than a month after the Nigerian Air Force took delivery of it from the presidency.
The Nigerian Air Force, P.R.O., Group Captain Dele Famuyiwa, denied the report that one of the aircraft crashed.
Famuyiwa said that the aircraft was not involved in a crash but an incidence of little effect.
"It was not a crash. I wouldn't call it a crash because it just fell on the ground in Makurdi."
"I can say maybe it was an incident. You know accident is a higher degree of incidence. It was just an occurrence that did not take any life or equipment. Cars can malfunction and the same thing with any machine."
Famuyiwa said that the incidence was not in away a result of low training and skill of crew member as the same crew which managed the aircraft at the presidency still manage the aircraft at the air force base.
However, pictures  as well as the information gathered, revealed that the aircraft was in a damaged position.
The Presidency had on October 10, 2016 handed over the two ballistics defence capable aircraft from the Presidential fleet to the Nigerian Air Force, with a view to reduce government's expenditure.
During the handover ceremony at the Presidential wing of the Abuja Airport, the Chief of Air Staff, AVM Abubakar who received the aircraft said one of the aircraft would be configured and deployed as ambulance while the second would be deployed as troop carrier, especially for operations against the Boko Haram sect in the North-eastern region of the country.
Agusta AW101, which is a large armoured helicopter cost about $21million each (N10.5billion) making it 130% more expensive than the average aircraft of its class.