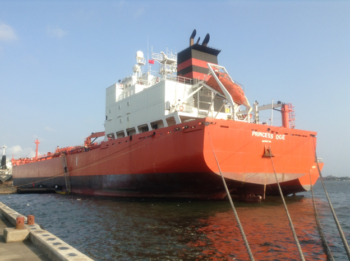 Security operatives attached to the Nigerian Navy Ship (NNS) Victory in Calabar, Cross River State on Saturday, said six Bangladesh nationals and 16 Nigerians had been arrested for illegally diverting 22 metric tonnes of diesel in an illegal transfer along the Calabar water channel.
The Commander of NNS Victory, Commodore Salihu Jibril, said the vessel, MT Princess Oge, brought the product from offshore Lome to deliver to a tank farm in Calabar.
He said the vessel was caught carrying out the illegal activity and was immediately arrested.
Jibril, who addressed journalists on board the vessel along the Calabar Channel before handing over the suspects and vessel to the Nigeria Police, said Princess Oge was a bunkering ship that was given permission to deliver and discharge cargo in Calabar.
He said, "Along the way, it was found to have transferred illegally to another ship and consequently we arrested it.
"Having conducted our investigation and found their operation illegal in the marine environment, we are formally handing over the ship, crew, and cargo to the Nigeria Police for further investigation and prosecution.
"The suspects include 22 persons of different nationalities. We have six from Bangladesh and 16 Nigerians. The vessel was given permission to move AGO cargo to Calabar. In line with extant regulations, we are handing them over to the police."