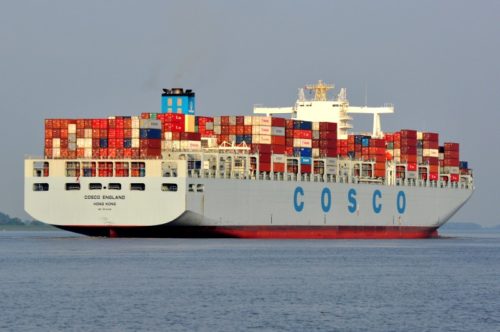 COSCO England, a Neopanamax containership owned by COSCO Shipping Lines, collided with another vessel while berthing at a port in Malaysia.
The incident occurred at Port Kelang on April 21, 2019, according to a statement issued by Westports Malaysia.
The Hong Kong-flagged COSCO England and another, yet unnamed vessel collided while approaching the wharves of Westports through the South Channel.
"Both vessels were subsequently safely secured at our berths to commence their operations and, at the same time, the relevant authorities also commenced their investigation into the incident.
"As of now, both vessels are presently conducting relevant surveys and repairs at our berths and it is anticipated that we would be losing 600 meters of wharf space due to this for the next 7 days," Westports said on Monday.
In a separate update, OOCL said that there were no casualties or OOCL container damage as a result of the incident involving the 13,386 TEU COSCO England.
Westports added that it expects some berthing delays in the next week. However, the incident has not impacted channel and port operations.
"We continue to facilitate the requirement of both vessels to ensure safe sailing from here to their next destination," Westports said.