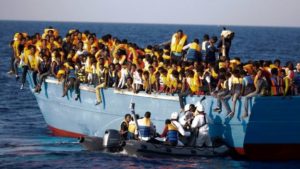 More than 240 people have died in boats in the Mediterranean Sea this week, according to officials, as horrifying new testimony emerged from survivors of yet another tragedy off the coast of Libya.
Departures from Libya are continuing unabated despite worsening weather in the Mediterranean, with over 3,200 people rescued from crowded and unseaworthy dinghies since Saturday. The total is the same as for the whole month of November 2015.
The new death toll was based on information gathered by the UN's refugee agency (UNHCR) from 15 survivors, who said some 135 people had drowned or lost their lives when a dinghy capsized on Monday.
Some 95 others are presumed dead after another boat sank on Tuesday.
Nine bodies have been recovered in total after both incidents, while a 10th person was seen to have drowned but could not be pulled from the sea by rescue teams.
The survivors of Monday's shipwreck off Libya – overwhelmingly from sub-Saharan Africa – arrived on Wednesday in the port of Catania in Sicily, where they spoke of their ordeal.
They had set off from Libya on Sunday night with about 150 people on board, "so there would be about 135 missing", UNHCR spokesman Iosta Ibba told AFP news agency.
"Their dinghy, which was already in a poor state, began taking on water several hours after they set off. It then overturned, tipping all 150 into the sea. Only 15 managed to survive by clinging to a part of the vessel which floated," he said.
"They stayed like that several hours before help arrived," he added.
Italy's coastguard said 580 people had been brought to safety on Wednesday in five separate rescue operations, with one body recovered.
The deaths were not limited to the perilous crossing between Libya and Italy.
On Wednesday the bodies of four male refugees, aged between 20 and 40, were found in a boat that ran into trouble off Greece.
The Greek coastguard said it had spotted the boat some 15 nautical miles off the island of Thassos "with a total of 19 people on board, four of whom had lost consciousness", probably due to hypothermia.
The latest deaths lift the total number of migrants and refugees who have died trying to cross the Mediterranean this year to just over 4,500, according to a UNHCR count based on bodies recovered and survivor accounts.
The Malta-based charity MOAS, which deploys two rescue boats in the area, said the true toll is higher "as it is highly likely that many boats sink without ever being reported".
The charity blamed "the changing approach of smuggling networks" which it said showed "an attempt to maximise opportunity and meet demand on the part of the smugglers".
"Whereas in past years, crossings were organised in more manageable trickles, perhaps a few a day, this year our crews have seen departures organised in large waves," it said in a statement.
"Despite tireless efforts to save lives by both civil society and European navies … search-and-rescue efforts in the Mediterranean are more challenging than ever," it added.
Some 167,000 people have reached Italy by boat so far this year, exceeding the total for all of 2015 which stood at 154,000, and quickly approaching 2014's record of 170,000.
Italy has borne the brunt of new arrivals since the implementation in March of a controversial agreement between Turkey and the European Union for Ankara to curb the flow of refugees sailing from its shores to reach Greece.
Copyright Ships & Ports Ltd. Permission to use quotations from this article is granted subject to appropriate credit given to www.shipsandports.com.ng as the source.