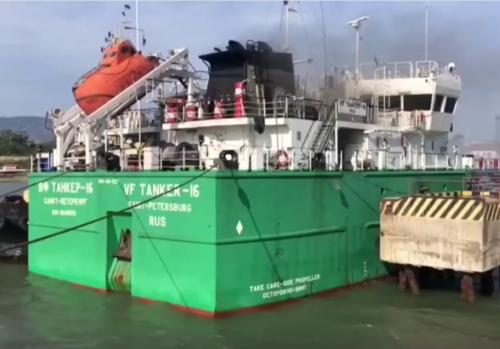 Three people were confirmed dead on Tuesday after an explosion rocked an oil tanker while it was pumping oil in the southern Russian port of Makhachkala, Russia's Transport Ministry said.
The owner of the affected ship, Volga Shipping, confirmed the incident in a statement. 
"Today, at about 4:30 a.m. (Moscow time), at the port of Makhachkala, an explosion occurred in the engine room of M/V VF Tanker-16 followed by smoke spreading to the accommodation spaces of the superstructure.
"Out of 12 crew members, nine were evacuated including three who have been taken to medical centers. The fire has been contained.
"After the arrival of the Emergency and Disaster Response (EDR) team three persons were pronounced dead on scene.
"Special services are on site and the investigation is underway.
"According to the statement of the Emergency and Disaster Response Ministry, there is no risk of an oil spill in the port of Makhachkala.
"The company will provide all possible assistance with the investigation of the causes of the accident and the situation in the water area," Volga Shipping said in the statement. 
The port is, however, functioning as normal despite the incident, the RIA news agency cited the Federal Agency for Maritime and River Transportation as saying.