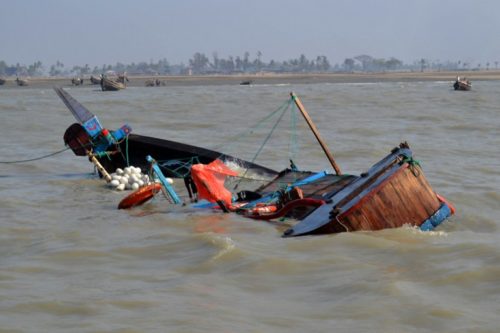 Three persons have been confirmed dead and five missing after a 20-seater passenger boat collided with a wooden boat on Wednesday night on the Lagos Lagoon.
According to eyewitnesses, 12 passengers were rescued by emergency management agencies.
Emergency responders at the scene were the Lagos State Waterways Authority (LASWA), Lagos State Emergency Management Agency (LASEMA), Lagos State Ambulance Services (LASAMBUS), and State Environmental Health Management Unit (SEHMU).
Officials said that the accident would have been prevented if the boat operator had adhered to LASWA cautions against night operation in the state.
Confirming the incident, General Manager of LASWA, Damilola Emmanuel, said that the boat en route Ojo from Coconut jetty, a suburb in Lagos, capsized mid-sea.
Emmanuel said that investigation conducted revealed that the boats were a passenger boat, "God Bless" and a wooden water supply service boat.
He disclosed that three persons were confirmed dead and their bodies have been deposited in the morgue, while 12 persons were rescued alive and five persons are missing.
The LASWA boss noted that efforts of the emergency responders aided the rescue of 12 passengers, assuring that recovery efforts will continue until those missing have been found.
Emmanuel, however, expressed concern that boat operators were in the habit of flouting the order by the agency to desist from operating at night due to the dangers inherent.
He urged passengers to always ensure that they wear life jackets before embarking on any trip on the waterways and ensure they are worn properly to prevent loss of lives.
Emmanuel further said the State Government in conjunction with the Marine Police will conduct a thorough investigation into the incident, adding that the operator of the boat would also be held accountable.