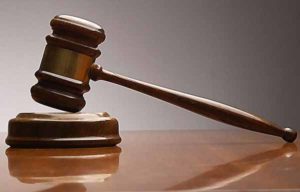 Three men namely, Maurice Fangnon, 59, Precious James, 19, and Rafiu Ogunmola, 19 were arraigned at the Apapa Magistrate Court on Thursday by the police on five-count charge of conspiracy, disturbance of public peace, unlawful possession of weapons, attempt to attack members of the Maritime Workers Union of Nigeria and disobedience to the lawful order of the court.
The allegations stated that the three men and others now at large, on the 31st May 2016 at about 1030hrs at No. 119, Osho Drive, Olodi-Apapa, Lagos, in the Apapa Magisterial District conspired to commit misdemeanour in such a manner as to cause fear on the persons in the neighbourhood with view to disturbing public peace and had in their possession offensive weapons without lawful authority.
In addition, they were said to have conducted themselves in a manner likely to cause breach of peace by displaying cutlasses and substances suspected to be acid in the public in an attempt to attack members of the Maritime Workers Union of Nigeria and disobeyed the lawful order of the Court dated 25th May 2016 which barred them from engaging in assembling in the MWUN premises.
According to the prosecutor, S.A. Adebesin, the conduct of the accused contravened Sections 410, 44, 51, 166(d) and   123(b) of the Criminal Law of Lagos State 2011.
The three defendants pleaded not guilty to all the charges.
The Magistrate, Mrs. O.O. Oshin said all the defendants would be granted their former bail.
The case was adjourned till February 20th, 2017 for trial.