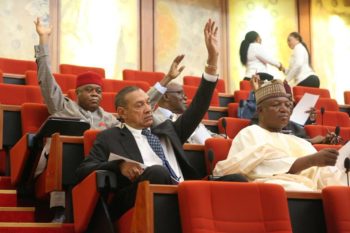 Less than one week after a warrant of arrest was issued against 30 Chief Executive Officers over nonappearance, Chairman of the Senate Joint Committee on Customs, Excise and Tariff; and Marine Transport, Senator Hope Uzodinma, on Wednesday said the executives have appeared before the probe panel.
The committee had on Friday said it had asked the Nigeria Police to arrest the CEOs who had failed to answer the summons by the panel.
It said out of the 63 companies accused of complicity in the frauds amounting to N30tn in the export and import value chain of Nigeria, only 33 firms had appeared before it.
Uzodinma, after a meeting with some of the companies, said all those invited had appeared after the warrant was issued.
He said the probe, which covers activities across the trade chain between 2006 and 2017, was not a charade as perceived by some Nigerians.
He said no amount of blackmail would deter the committee from carrying out its constitutional role, particularly with regard to issues that had direct impact on Nigerians.
"If there is anybody who is still in doubt whether there are recoverable revenues of government in the hands of these companies, by the admission of some of them, it means that the person should better wake up.
"We call on all Nigerians to support the Senate. We are all very serious men and women.
"We are professionals in different fields of endeavour and when we have decided to come here to serve the country, we mean every word of it.
"What we are doing and showing by this investigation is that the country can be better and that we can move from where we are now to where we expect the country to be," he said.
He dismissed insinuations that the committee's investigation was shrouded in secrecy.
Uzodinma, however, said the committee was being careful in disclosing some details as the investigation was still ongoing and that making the details public may jeopardise the process.
"We are not shrouding anything in secrecy.
"The public is interested in this investigation and you know the Stock Exchange is an important platform for trade in Nigeria.
"We don't want to create unnecessary panic in the market as some of the companies are public-quoted.
"There is a signal we will let to the market that will destroy the image and integrity of these companies.
"We have not arrived at any conclusion because the investigation is still on. On the final day, we will do a full blown news briefing so that Nigeria will know the outcome of our exercise,'' Uzodinma added.
Copyright Ships & Ports Ltd. Permission to use quotations from this article is granted subject to appropriate credit given to www.shipsandports.com.ng as the source.