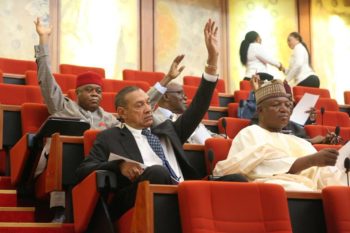 By Patience Danjuma 
The Senate Committee on Aviation has vowed to ensure that Arik airline pays its debt of N13 billion to the Federal Airports Authority of Nigeria (FAAN).
In this regard, the red chamber has said the Asset Management Corporation of Nigeria (AMCON) who is the current owner of the airline would be held responsible for the debt.
Chairman of the Committee, Sen. Adamu Aliero (APC, Kebbi) who was expressed shock at the figure during a hearing on Monday, queried why AMCON would be enjoying the assets of the troubled airline but shirk the responsibility of its liabilities.
Aliero said, "We would equally have a meeting with AMCON because they have taken over Aero and Arik and I don't see why they should not pay these debts. They have trillions of naira.
"We would compel them to pay because there is no reason why they should not pay. They have taken over the assets and they should also take over the liabilities."
The panel urged FAAN to immediately submit a debt profile in order to strategize and create a recovery plan.
Speaking further the lawmaker said, "When you submit the detail of debt profile, we intend to sit with you and call all the stakeholders in a meeting like this and discuss how the money can be recovered."
The Managing Director of FAAN, Sule Dunoma, explained that the agency has taken measures to reduce the debt incurred from airlines through stoppage of credit policy.
Dunoma said, "Normally from our credit policy we allow the airline to operate with certain credit limit. Unfortunately these credit limits were abused especially by Arik they are supposed to pay after 2 weeks. That's the credit limit allowed.
"But we had to review our policy; we started the review of our policy with Arik. A year ago we stopped Arik from any credit policy. Everything they do is cash and carry since then Arik has not accumulated any debt.
In respect to outstanding debts, the Managing Director disclosed that they have commenced its reconciliation with AMCON.
"We are saying that AMCON can pay off the debts of Arik. If they can have the assets why not the debts? We are reconciling. We have insisted that after the reconciliation, they pay us at least N10billion out of N13 billion.
"We would not accept anything less than N10 billion. This applies to any to other airline. If they don't comply, we reconcile and then come up with payment schedule. To cover these debt, we would bring the detailed debt profile so you can assist us in coming up with a strategy.
"This is very important because we are not collecting any money from the government. Any airline that defaults, in terms of following our credit policy, we sit with them and give them time in which they would pay.
"Failure to do that, we would withdraw our serves and stop them from operating. These are some of the things we do to keep the strategy in place."  
Copyright Ships & Ports Ltd. Permission to use quotations from this article is granted subject to appropriate credit given to www.shipsandports.com.ng as the source.