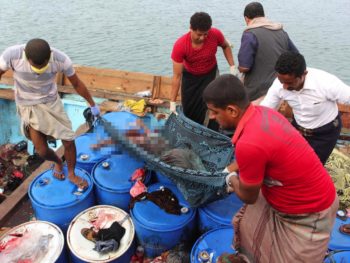 At least 32 Somali refugees have been killed in an attack on a boat off the coast of Yemen while attempting to flee the country's brutal civil war.
Coastguard authorities in the Houthi rebel stronghold of Hodeidah said a helicopter gunship attacked the vessel they were travelling on in the Red Sea.
A Yemeni people smuggler who survived the attack said the boat had set sail overnight, aiming to cross the Red Sea to Sudan.
Al-Hassan Ghaleb Mohammed said women and children were among his passengers from the port of Arra, along the southern coastline in Yemen's Hodeida province.
He said their boat had travelled around 30 miles from shore when the helicopter gunship approached and opened fire, sparking panic on board.
They finally managed to hold up torches to show they were civilian migrants, when he said the helicopter stopped firing.
Photos that were too graphic to publish showed the bodies of women and men in civilian clothes lying on top of one another in the partially destroyed boat, their belongings splattered with blood. Children were believed to be among the dead.
The UN Refugee Agency (UNHCR) said at least 32 people had been killed and 30 more injured out of around 140 people on board.
Mohamed al-Alay said the refugees, carrying official UN documents, were on their way from Yemen to Sudan when they were attacked by an Apache helicopter near the Bab el-Mandeb strait.
Houthi rebels accused the Saudi-led air coalition of carrying out the attack, following heavy bombardment in the area, where it accuses Shia fighters of smuggling weapons into Hodeida in small boats.
The UNHCR said it was "deeply distressed" by the casualties and called for all parties in the Yemeni civil war to protect civilians in accordance with international law.
"UNHCR is appalled by this tragic incident, the latest in which civilians continue to disproportionately bear the brunt of conflict in Yemen," a spokesperson said.
"UNHCR has been following up to provide urgent assistance and support to the survivors and to the families of those deceased."
The agency warned that conditions in Yemen were continuing to deteriorate, forcing asylum seekers to leave the country and move north.
A sailor who had been operating the boat, Ibrahim Ali Zeyad, said 80 refugees had been rescued after the incident.
Copyright Ships & Ports Ltd. Permission to use quotations from this article is granted subject to appropriate credit given to www.shipsandports.com.ng as the source.