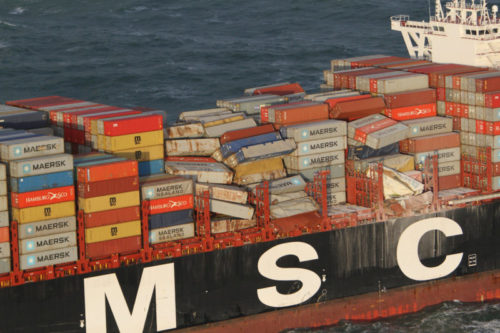 The estimated number of containers lost from the MSC Zoe during a North Sea storm in early January has risen to at least 345, more than 50 containers more than initially thought, the Dutch agency Rijkswaterstaat said on Wednesday.
The new assessment comes after some of the remaining containers on board the MSC Zoe were unloaded at the Port of Gdansk in Poland.
The Panamanian-flagged MSC Zoe was underway in German waters when it reported it had lost multiple containers overboard on January 1, 2019.
Initial estimates said as many as 270 containers were lost overboard, but the estimate rose to 291 after the ship docked in Bremerhaven, Germany for inspection and to offload damaged containers.
While many of the containers sank, about two dozen washed up on the shores of the Wadden Islands, an island chain in the northern Netherlands.
Rijkswaterstaat said in an update on Wednesday that the new assessment comes after the ship sailed for Port of Gdansk to offload the remaining containers on board, allowing for a recount. The number of containers with hazardous substances remains unchanged, the agency said.
Delivered to Swiss-based Mediterranean Shipping Company in 2015, the 396-meter-long MSC ZOE has a capacity of 19,224 TEU.
Rijkswaterstaat says it expects a final count of the number of containers lost from the shipowner next week.
A major salvage effort to located and retrieve the hundreds of missing containers is ongoing and could last several months.