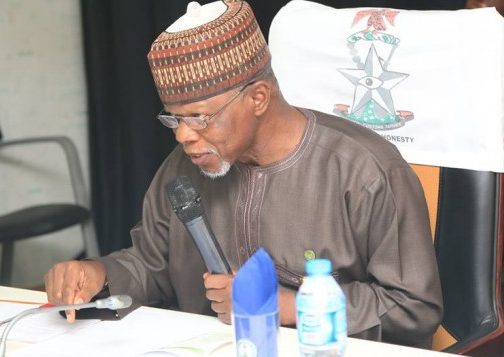 Masters Energy Commodities Trading Limited – the owner of the 54 containers of rice and other goods seized by the Nigeria Customs Service and paraded before newsmen at the Tin Can Island Port, Lagos on Tuesday – have faulted claims by the Customs Comptroller-General, Hameed Ali, that the consignment was imported and seized this year.
Ali had told newsmen at the Tin Can Island Port on Tuesday that the NCS officials seized the 54 containers, which included 33 containers of rice, 11 containers of unregistered pharmaceutical products, two used tyres, one container of used clothing, and four refined vegetable oil in retail packs.
He said the 33 containers bearing expired rice were imported from Thailand and China, and seized this year as a result of the partial closure of the nation's land borders.
However, Masters Energy Commodities Trading Limited, claimed on Wednesday that the rice containers belonged to it and were seized in 2016, and not in 2019 as claimed by Ali.
Masters Energy Commodities Trading Limited is a subsidiary of Masters Energy Group owned by Uche Ogah, the present Minister of State for Mines and Steel Development.
Lawyer to the company, Monday Ubani, said the rice containers were impounded in 2016 due to the inability of the company's clearing agent to pay the correct tariff on the commodity.
He said, "It was even reported that Masters Energy then petitioned the House Committee on Customs, Excise and Tariff that its agent, Messrs Destiny Impex Limited, a clearing company registered and licensed by the Customs, made a false declaration in order to cut tariffs for the 30 containers of rice.
"The company indicated willingness to pay the correct tariff as the agent was paid full money but decided to cut down the tarriffs in order to avoid paying full value of the tariffs.
"It is important we point out here that this parboiled rice was purchased from Thailand from a company known as Asia Inter Trade Rice Export Co. Limited with a disclosed address and there is bill of lading to that effect.
"The quantity imported were 60 containers in all. 30 containers were seized due to the under-declaration by the agent while the remaining 30 containers arrived later at the port by which time the Federal Government has put rice as one of the famous 41 Items that will not enjoy forex of the Central Bank of Nigeria.
"Due to this policy as aforementioned, the remaining 30 containers remained uncleared and abandoned. We have a letter from Customs authority asking Masters Energy to seek the approval of Central Bank of Nigeria before they can clear the remaining rice. All these events took place in the year 2016."