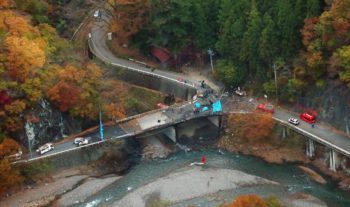 A helicopter crashed in a village northwest of Tokyo on Wednesday afternoon, killing four employees of the helicopter service company who were on board, local authorities said.
The helicopter crashed around 2:30 p.m. and burst into flames in the Gunma Prefecture village of Ueno, the site where a Japan Airlines jumbo jet crashed in 1985.
Operator Toho Air Service Co. said among the four employees in the accident were a 60-year old pilot and three mechanics — two in their 20s and one aged 50.
No damage to the surrounding residential area has been confirmed. The chopper was on its way to Tochigi Prefecture after leaving Yamanashi Prefecture shortly after 2 p.m., where it had transported some goods, Toho Air Service said.
The helicopter was an AS332L manufactured by Airbus Helicopters Inc., a member of the Airbus Group, according to the Ministry of Land, Infrastructure, Transport and Tourism.
Police said they received emergency calls from witnesses. The helicopter crashed about 700 meters west of the village office, according to local authorities.
The accident caused a power failure in the village as electricity lines were damaged, affecting about 600 households, according to Tokyo Electric Power Company Holdings Inc.
Agency Report