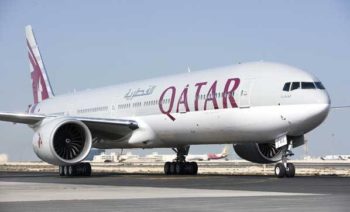 The flight headed to Bali was diverted and landed in Chennai after the Iranian woman created a ruckus mid-air. Security agencies said she was drunk.
The Iranian couple were travelling with their young child on the Qatar Airways flight on Sunday which had no stopover in India.
"On November 5, at about 10 am, Qatar Airways flight QR-962 (Doha-Bali) was diverted to Chennai. A lady along with her husband and a child, all Iranian nationals, were offloaded by the airline, which had no stopover, as the woman created a ruckus and misbehaved with crew members inflight," said a senior security officer.
Sources said that the husband fell asleep an hour after take-off. The woman who suspected infidelity took advantage of the opportunity.
"She unlocked her sleeping husband's phone by putting his finger on its scanner and after checking the contents realised that her husband was cheating on her," they said.
The woman, who was allegedly inebriated, got into a heated altercation with her husband. When the crew intervened and tried to pacify her she also purportedly misbehaved with them.
"Seeing the situation getting out of hand, the crew decided to offload the woman along with her husband and their child. The pilot diverted the flight to Chennai, where the family was de-boarded. The plane went ahead to Bali leaving them in India," an official said.
Authorities in Chennai decided to keep the family at the airport till the woman got sober. Later, they were put on a plane to Kuala Lumpur and taken to Doha by a connecting flight from there.
"The family was de-boarded due to the ruckus created by her but no FIR was registered as there was no security issue. They stayed in Chennai for a while and later the family was sent to Kuala Lumpur by Batik Air flight 6019 for further travel to Doha," said the official.
Agency Report