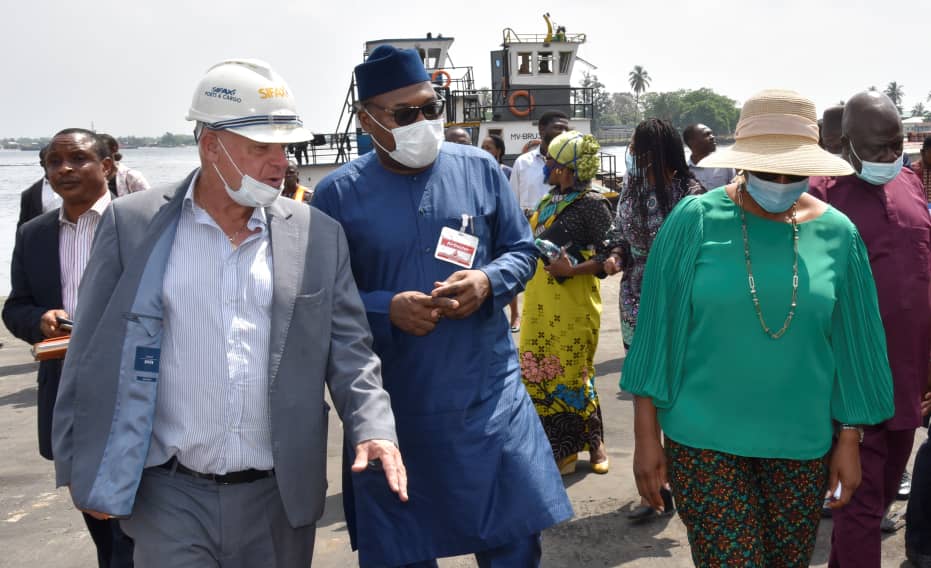 No fewer than 40 ships calling at the Tin Can Island Port Complex, Lagos are currently stranded at anchorage due to lack of space to discharge new cargoes at terminals in the port.
Cargo evacuation from the port has been hampered by multiple toll points mounted by security operatives including men of the Nigerian Ports Authority (NPA) security department, Nigeria Police Force, Nigerian Army and officials of the Presidential Task Team on Apapa gridlock.
The officials, who were posted to the area to manage traffic, now extort various sums of money ranging from N100,000 to N250,000 from truck operators before they are allowed into the port.
The situation has led to heavy backlog of cargoes in the port thereby constraining the discharge of more cargoes from vessels.
The deplorable port access road has also contributed to the congestion.
The Managing Director of Port & Cargo Handling Services, John Jenkins, on Tuesday expressed frustration over the near total collapse of cargo delivery along the Mile 2/Tin Can Island port access road.
He said, "Transfer of containers by road is almost not in existence because the road is blocked and you can't get containers out. The problem is the road. If the problem of the road is solved, the problem inside the port will be solved. Before we never had block stack containers because the cargo used to move freely but not anymore now.
"There are in excess of 40 vessels at anchorage. At Port & Cargo, we could only bring seven alongside now. Last month, we kept one of the MSC vessels there for four days because they could not discharge and this month, we have kept vessels for more than two days already because we don't know where to put the containers.
"I have worked in this port industry all my life; I have never seen roads like this. We could form a palliative solution. We are not happy; we got people losing their means of livelihood everyday because of the poor condition of the road."
Jenkins also said that his terminal moves several cargoes by barges to ease the congestion.
"We move over 8,000 TEUs a month by barges. So when people say we are not moving quickly enough on barges, I refute that. Because of congestion inside the terminal, everyone wants to make use of the barges. I do not agree that we are not moving enough but we can do more."