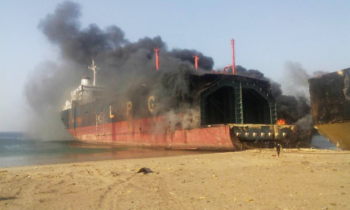 At least five people are dead and after fire broke out inside a beached tanker at the Gadani shipbreaking yard in Pakistan where an explosion in early November killed at least 26 workers and injured scores more.
Pakistani news sources are reporting that the fire broke out yesterday inside the end-of-life LPG tanker 'Chaumadra' which was being dismantled at the yard. The ship suffered a similar fire in early December, but fortunately nobody was killed in that earlier incident.
The death toll from Monday's fire now stands at five workers, but that number could rise as more information  comes in. At least one worker was reported injured.
The LPG tanker is just down the beach from the former oil production vessel ACES, which suffered an explosion in early November and burned for several days. At least 26 workers were killed and 58 were injured in that incident, although some reports have suggested that the number of killed and injured could be higher since it was unclear exactly how many workers were inside the ship when the explosion occurred.
Monday's fire aboard the Chaumadra is believed to have started after a combustible foam caught fire inside the tanker. As many as 55 workers are believed to have been inside the ship when the fire began.
The Chaumadra belonged to Rizwan Diwan Farooq, a former chairman of the Pakistani Shipbreakers Association, who has been placed under arrest by police. Rizwan Deewan resigned as chairman in November following the fire on board the ACES. That fire is believed to have sparked during welding work inside the ship.
The latest accident comes amid mounting pressure to clean up or halt the use of South Asia's shipbreaking yards, where end-of-life vessels are dismantled within the tidal zone at facilities that often lack proper safety equipment, human health and environmental safety standards, and emergency services.
A common theme in all three of these recent incidents is that the ship's were not cleaned of all flammable gases and liquids prior to arriving at the yard.
Copyright Ships & Ports Ltd. Permission to use quotations from this article is granted subject to appropriate credit given to www.shipsandports.com.ng as the source.